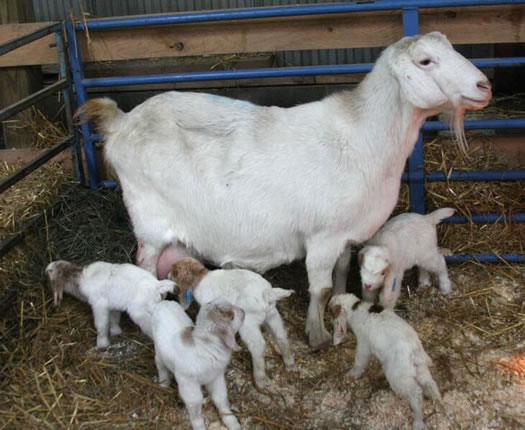 Today's moment of baby animals: These goat kids -- all five of them -- were born from the same mother this week at SUNY Cobleskill's livestock barn.
Apparently goat quintuplets are very rare. (Scientific reason: That much cuteness can't be gestated in one goat. It's just too much.) We now turn to the Daily Gazette's John Enger, who we believe has written the definitive goat miracle birth story (not paywalled):
This is [university livestock manager Donna] Cappadona's 15th year running the livestock program at the university. In that time, more than 400 goats gave birth. Before that she ran a goat farm in Perth. In all her years of witnessing the start of new goat lives, she never saw a set of quintuplets, and only once saw quadruplets.
By the time she got to the barn Tuesday morning, after an hourlong drive from her Perth home, all five kids were out in the world, cleaned up and doing fine. "You'd think they'd be small," Pinckney said, "with so many of them in there, but they're all pretty big."
By pretty big, she means 8 pounds or so each, all carried by a mother goat weighing roughly 200 pounds -- an impressive feat of strength beyond the surprising powers of fertility. When the goat quints reach age, they'll either join the college's herd or be sold to other farmers.
The article goes on to explain some the factors that may have contributed to this particular goat may ending up so very pregnant. (It involves hay.)
Also: The SUNY Cobleskill livestock barn is apparently open for tours from the public. Here are a few more details.
photo: SUNY Cobleskill

Hi there. Comments have been closed for this item. Still have something to say? Contact us.