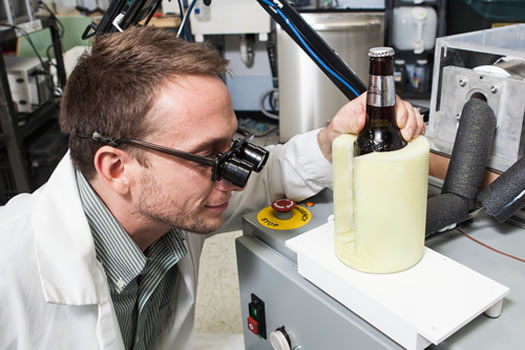 If ever you wondered what the scientists at the GE Global Research Center in Niskayuna do, here's one answer (of many): develop an entirely new type of refrigerator.
Researchers at the GRC in Niskayuna, along with other research sites around the world, have been working to develop refrigeration technology that uses magnets for cooling. GE recently announced that its researchers believe the tech could be in consumer fridges in about a decade. The company says the technology is about 20 percent more efficient than the sort of technology currently in your fridge at home -- tech that's about a century old. (And it doesn't use some of the substances that make recycling refrigerators difficult.)
A post on GE's Edison's Desk research blog by Frank Johnson, one of the scientists in Niskayuna, explains some of the science behind the technology:
In a conventional refrigerator, a compressor is used to compress and heat refrigerant gas and deliver it to a condenser where it cools off by dumping heat to ambient air. When the refrigerant has given up enough heat it becomes a liquid. It then flows through a tight passage called an expander or capillary tube and drops in pressure and turns into cold liquid at a lower pressure. After exiting the expander it is in an evaporator, really cold, and ready to accept heat from the space it is in, the freezer. When it accepts enough heat it is boiled into gas and is then ready to enter the compressor again. This cycle continues as long as the compressor runs. The magnetocaloric effect is similar except that it occurs entirely in the solid state. The magnetism "evaporates" when heated above a certain temperatures and "condenses" back upon cooling. A magnetic field can be used to drive this reaction and "pump" heat from low to high temperatures, providing the cooling effect.
The magnetocaloric effect has been known for more than a century, but finding a way to apply it in a practical way to a refrigerator has taken years of off-and-on research and the development of new materials. Johnson's blog post covers a lot of that history, and the story illustrates how advances are so often the result decades of work by many people and institutions, often on basic research.
If you're curious, GE scientists talked about the tech this week in a Google hangout.
GE says its researchers are currently working on a magnetic refrigerator that can drop the temperature by 100 degrees. And they see the tech as potential replacement all sorts of cooling devices, including air conditioners.
photo: GE Reports
Hi there. Comments have been closed for this item. Still have something to say? Contact us.