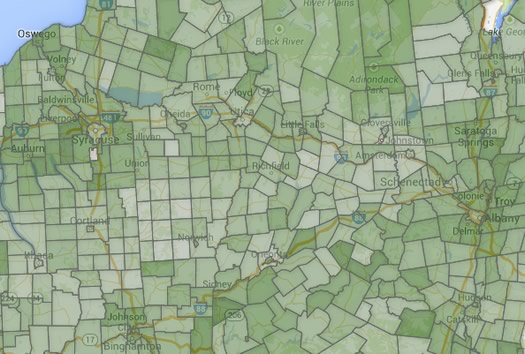 Today is St. Patrick's Day, both a Catholic religious holiday and a holiday for people celebrating their Irish heritage. (Or, you know, just celebrating a good excuse to get together with friends.)
As it happens, this part of the country -- both the Northeast and Upstate New York -- have some of the highest percentages in the US of people claiming Irish ancestry. This Trulia map from last year, which maps by county, illustrates that well. So we though it'd be fun to map New York State cities and towns by percent of people claiming Irish heritage, based on Census data.
Maps, and a chart or two, a few facts for conversation over corned beef and cabbage...
Notes about these numbers
These numbers are based on the Census Bureau's American Community Survey 2012 5 year estimates. As the name would indicate, the numbers are estimates, and when the sample size gets small -- like, say, for a town without a bunch of people -- the margins of error can be relatively large. So if your small town is pegged for having 50 people of Irish descent -- and your Irish family, which lives there, has more than 50 people -- that's why. The numbers aren't going to match up exactly.
Also: The concept of ancestry can be a bit squishy. In almost every case for this post, the numbers are based on what people reported as their "first" ancestry. Here's a Census Bureau FAQ about that.
So, this should all be taken with a few grains of salt.
Irish
There's a map in large format above depicting New York State cities and towns based on the percent of the people there who reported their first ancestry to be Irish. The deeper the green, the higher percentage.
Here's a chart of Capital Region cities and towns for percentage of population reporting Irish as their first ancestry:
So, based on these estimates, almost 16 percent of people in the Capital Region report Irish as their first ancestry. The Census also collects info on "second" and "total" ancestry. When "total" ancestry -- that is, anyone who mentioned that they consider themselves at least part Irish -- is tallied for this area, the percentage increases to a little more than 23 percent.
Other ancestries
The Census Bureau collects responses for a wide range of ancestries, many of which registered at least a few people in this area. But some of the totals were so small they were within the margin of error or close to it. So we pulled together a list of the most commonly reported "first" ancestries for the Capital Region's core -- in this case, any ancestry that registered as having at least one percent of the local population:
Not surprisingly, Irish and Italian top the list (after "other groups").
Elsewhere
As it happens, this topic is on a lot of people's minds today. The Syracuse Post-Standard put together a similar feature which also allows you sort by ZIP code.
Hi there. Comments have been closed for this item. Still have something to say? Contact us.