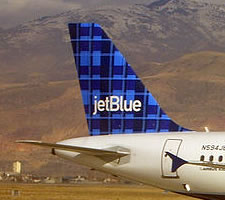 Announced today: JetBlue will begin service out of Albany International Airport in 2015. Chuck Schumer has been pushing for the airline to serve ALB, so he was chuffed about the announcement. Said the peripatetic Senator in a press release from his office:
"This should increase competition at the airport, increase the availability of flights to Albany International's most popular destinations, like Florida, and drive down prices for the average flyer. What's more, it will keep more residents in the area flying out of Albany, instead of traveling out-of-state for cheaper flights. It's a win across the board that will reap benefits for Albany International, JetBlue, and the region's tourism industry for years to come."
The two flights planned for the ALB schedule: Fort Lauderdale and Orlando. Here's JetBlue's current service map. Its slate of upstate-ish cities currently includes Buffalo, Rochester, Syracuse, Newburgh, Westchester, and Burlington.
When word started spreading about JetBlue's impending arrival this morning, we noticed a bunch of people in our Twitter stream hailing the news. To which we ask, earnestly: Why?
We're kind of the thinking that most airline travel is pretty much like any other airline travel these days. Sure, there's some variation -- the Southwest people might be a bit funnier and that airline doesn't charge you for checking a bag. But on price, and many other aspects, there doesn't seem to be a lot of difference. So, aside from the increase in competition, what's the big deal? If you've flown JetBlue, please share. We're genuinely curious about what separates this airline from the others.
Elsewhere: A ranking of nine major carriers by the WSJ released in January pegged JetBlue at #5.
photo: Aaron Gustafson (cc) via Wikipedia
Hi there. Comments have been closed for this item. Still have something to say? Contact us.