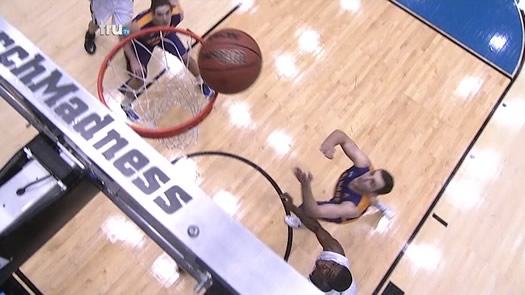 UAlbany beat Mount St. Mary's 71-64 in its "First Four" NCAA basketball tournament game Tuesday evening in Dayton. The Great Danes now advance to the full field of 64 in which they'll face #1 overall seed Florida as the #16 seed in the south bracket on Thursday.
Tuesday's game was a bit odd. UAlbany jumped out to a 21-2 lead, then Mount St. Mary's went on its own 21-2 run to tie it. The teams were a contrast in styles this season -- the Great Danes ranked #313 in the country for tempo, and the Mount ranked #32. (UAlbany's games featured 7 fewer possessions than Mount games on average this season.)
UAlbany shot well, hitting 57 percent of its field goals and 79 percent of its free throws. The Mount shot just 37 percent from the field But that figure's a bit misleading because its effective field goal percentage -- which accounts for three-point shooting -- was 46 percent. The school from Maryland took 37 three-pointers (and made 12) compared to just 9 attempts for Albany (with 2 makes).
Also keeping The Mount the game: It turned the ball over just 4 times, compared to 14 for the Great Danes.
DJ Evans led the Great Danes with 22 points. Peter Hooley had 20.
Next: The Gators
UAlbany is up against a tall task Thursday. As mentioned, Florida is the #1 overall seed in the tournament. The Gators haven' lost since December 2. The FiveThirtyEight projection for the game has the Great Danes chance of winning at less than 1 percent.
The game is Thursday at 4:10 pm in Orlando. It will be on TBS.
screengrab: TruTV/NCAA March Madness Live