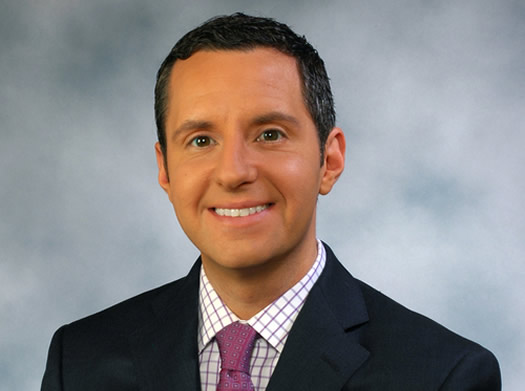 Andrew Catalon's well-known in the Capital Region media scene from his years as a sportscaster at WNYT. But his star has also been rising on the national scene in recent years as he's worked the Olympics for NBC, and now does games as the lead play-by-play announcer for CBS Sports Network.
This week, Catalon -- who still lives in the Capital Region -- will be on one of the biggest stages possible for a sportscaster: the NCAA basketball tournament. He'll be out in San Diego calling a slate of four games on Friday.
We talked with Catalon this week before he headed out west, about being in Sochi for the Olympics, the cult following of curling, the NCAA tournament, making friends with the TSA at ALB, and working alongside some of your idols.
A quick note: This interview was conducted by Greg. A long time ago in a snowy place, Greg and Andrew worked together at WAER, the Syracuse University public radio station.
You're coming off working the Olympics in Sochi. Years from now, what's one of the memories you'll hold with you from that experience?
You know, that was my fourth Olympics with NBC and it was the most enjoyable experience I had of any of the prior [Olympics]. Going into it there was certainly some anxiety about some of the things you were hearing over there, but it could not have been any more enjoyable for me. Everything was set up perfectly. All the venues were close together. All the volunteers were so friendly. So I think of that time in Sochi, it was a very memorable, enjoyable two-and-a-half weeks.
I think the biggest thing was that all the venues were close together. So, when I was in London [for the summer Olympics], I was at Wimbledon for tennis, I was an hour outside the city. When I was in Vancouver, the curling arena was 25 minutes away. In Sochi, every day the way I got to the curling arena was by walking through the Olympic park. So I got that experience of walking through the crowd, past the torch each and every morning. And then when I was done, since all the arenas were right next to each other, on my walk home I could pop in and watch a period of a hockey game. And those were some luxuries I did not have in other cities.
It kind of helps you come down off the high of curling.
(laughing)
(laughing) No, I'm serious! People love curling. I'm sure you know this, but watching Twitter during the games, people love that stuff.
I know! It's amazing to me how much of a cult following it has, especially on social media. It's so much fun. People get into it. I love getting the tweets from people watching.
Look, the ratings were phenomenal. I'm happy to do curling. It's a ball being out there with the brooms and stones. And I'm hoping to do more of it.
These people are either A) ready for curling or B) ready to challenge the Griswolds on "Pig in a Poke": pic.twitter.com/dJnl9I08Ik

— Andrew Catalon (@AndrewCatalon) February 19, 2014
Now you're calling the NCAA basketball tournament for CBS, which is another huge event. What is it about the tournament that you think makes it so popular?
I just think the fact that any team that's in it, you've got a shot to win a title. It's not up to polls, you know, unlike college football, which is changing with the playoff now. But, you know, filling out the brackets and having your favorite team in there. "One Shining Moment." Buzzer beaters. It all just adds up to an incredible event.
I remember being in high school, trying to find the cool teacher who'd let you watch some of the noon games on that Thursday or Friday. And those are some of the early memories I have of the tournament. And now to be part of the tournament is just incredible.
I really think those Thursday and Fridays should be holidays of some sort.
It really should be. No one needs to be working. And if you are working, you're not really working.
Right. (laugh) So, you've been working for CBS Sports Network, doing a bunch of games out west. But you still live here in the Capital Region. You've gotta have one of the worst commutes of anyone who lives here.
(laugh) Well, this season for college basketball I wasn't out west as much. I had games in the Big East and the American, so that cut down on my basketball travel. But, yeah, my frequent flyer miles are waayyy up there. And I think I've got a lot of friends at the Albany airport. The TSA people are always very nice to me, and I try to be nice to them. A lot of familiar faces at the Albany airport because I'm there very often.
Any good travel stories?
Actually, this year hasn't been too bad. For that first snow storm in early January I had to spend one night in Detroit and one night in Charlotte -- and that was the same trip. So, certainly, there are some horror stories. But it just comes with it, and I feel lucky to have these jobs. I feel fortunate. The travel's not easy, but you get to do [the job] and that's just part of it.
When word got out that you would be doing the tournament games, we noted the lineup of announcers you'd be joining -- people like Jim Nantz, Marv Albert. That's play-by-play royalty. What do you think the college you -- the one getting up super early in the morning to do sportscasts on WAER in Syracuse -- would think about all this?
The college me? Honestly, I can't say that when I was at 'AER I dreamed of a particular job. As you know, and I know, this is a very competitive business. What I was hoping to do in college was just to put myself in a really good position to be able to have a career in this business. I mean, there are a lot of people who try and they're not able to hang around because it's so competitive and there are so many people who want these jobs.
So for me to have all these opportunities, I feel incredibly fortunate. I'm so thankful to CBS for trusting me with these opportunities. You know, this is just kind of beyond my wildest dreams from when I think back to when we were in college.
So for me to have all these opportunities, I feel incredibly fortunate. I'm so thankful to CBS for trusting me with these opportunities. You know, this is just kind of beyond my wildest dreams from when I think back to when we were in college.
There are a lot of people who went to Syracuse who are in the business. Looking at the slate of people who are doing play-by-play for the tournament this year [on TV], at least three of them are Syracuse guys, from different generations. What do you think it is about that place that creates so many sportscasters?
It's funny, because at our tournament seminar last week in New York I took a picture with the "other" two -- by the way, I'm the odd man out in that picture -- Ian Eagle and Marv Albert. And that was pretty special, getting a chance to talk with them.
Always have and always will look up to these two guys. Two of the best from @WAERSports, at our CBS NCAA seminar. pic.twitter.com/G0U0JCJrwz

— Andrew Catalon (@AndrewCatalon) March 12, 2014
You know, I think a couple of things. Number one, it's competitive. And you need to face those realities early in your career. The teachers are harsh. The competition is harsh to do games and to get good assignments. And I think that competitiveness has certainly helped me and prepared me for life after college.
And also the networking is very big as well. You meet a lot of people, like Marv Albert and Ian Eagle. I mean, Ian Eagle has meant the world to me in terms of helping me and guiding me and mentoring me. Yesterday, while he's preparing for the tournament, he's asking me what I need or how he could help me. He's really a guy I've looked up to more than anyone. And I can't thank him enough. And it's that type of Syracuse connection that I think really helps people after they graduate from there.
Last question: What's your favorite NCAA tournament game of all time?
Well, I mean, it would have to be when Syracuse won the national title [against Kansas in 2003). You know where I'm going with that one.
But, the Bryce Drew shot, that was certainly up there. And there have been so many incredible moments. But one game? I'll take the Cuse winning it all.
This interview has been lightly edited.
____
After the tournament, Andrew has two big things coming up later this year. He'll be calling NFL games for CBS in the fall -- the chairman of CBS Sports recently called him a "an up-and-coming future star." But before that, an even bigger event: He and his wife, WNYT news anchor Jessica Layton, are expecting a baby, their first, this summer.
photo at top: CBS Sports
Hi there. Comments have been closed for this item. Still have something to say? Contact us.