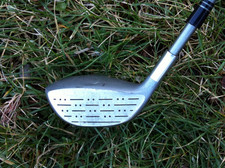 Deanna asks:
My five year old daughter has recently taken a huge interest in golf. She insists on watching it on TV, chiding the players with vigorous, "Ah, you almost had it buddy," and, "just get the ball in the hole!" Needless to say, she is inquiring about lessons. I'm quite happy with this, and in classic horse-before-the-cart fashion, we bought some kid-sized clubs for her last year in hopes she would express a desire to chase the little white ball. Does anyone have a suggestion for children's golf lessons? Preferably a group lesson in the Albany or Schenectady area? Thanks AOA readers!
Deanna's asking about kids lessons, and if you have a place to suggest, great. But if you know a good place/person for lessons generally, we're interested in hearing about that, too -- because they might also offer kids lessons, or be able to recommend someone good.
So, have a suggestion? Please share!
Hi there. Comments have been closed for this item. Still have something to say? Contact us.