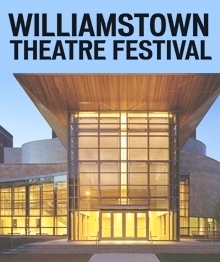 The schedule for this year's Williamstown Theatre Festival is out. And, as usual, it includes notable shows and actors you'll recognize such as Renee Fleming (you know, the famous opera singer), Lauren Ambrose (you know, from Six Feet Under), and Chris Pine (you know, Captain Kirk). The schedule is post jump.
Also: A guide on how to score tickets. Many of these shows end up being very popular and tickets can be hard to get. So a little planning now can increase your chances of getting tickets.
All blurbage from WTF. There will be additional casting announcements, and along with cabaret shows and other special events, as summer approaches.
Main Stage
June Moon | July 2 - July 13, 2014
By Ring Lardner and George S. Kaufman; Directed by Jessica Stone

Earnest and gullible young lyricist Fred Stevens boards a train in Schenectady bound for the Big Apple, determined to make a name for himself in the thriving Tin Pan Alley scene. However, the life he's imagined is rife with seductive distractions -- namely dames -- that threaten to derail his dream of penning the next big ditty. Both bitterly funny and deliciously literate, legendary humorists Ring Lardner and George S. Kaufman celebrate and skewer the perishable pop of yesteryear. Director Jessica Stone, whose WTF productions of A Funny Thing Happened on the Way to the Forum and Last of the Red Hot Lovers left audiences convulsed with laughter, brings her special brand of glee back to the Festival stage.

Living on Love | July 16 - July 26, 2014
By Joe DiPietro and Garson Kanin
Based on the play Peccadillo by Garson Kanin; Directed by Kathleen Marshall
With Renée Fleming

World-renowned soprano Renée Fleming takes the Festival stage as celebrated diva Rachel DeAngelis. When her husband, the fiery and egomaniacal Maestro Vito DeAngelis, becomes enamored with the lovely young lady hired to ghostwrite his long-delayed autobiography, Rachel retaliates by hiring her very own - and very handsome - ghostwriter to chronicle her life as an opera star. As the young writers try to keep themselves out of the story while churning out chapters, the high-energy - and high-maintenance - power duet threatens to fall out of tune for good. A sparkling new comedy from two-time Tony Award winner Joe DiPietro, adapted from a work by the revered Garson Kanin and directed by three-time Tony Award winner Kathleen Marshall.

The Visit | July 31 - August 17, 2014
Book by Terrence McNally; Music by John Kander; Lyrics by Fred Ebb
Choreographed by Graciela Daniele; Directed by John Doyle
With Chita Rivera

In her Festival debut, Broadway legend Chita Rivera embodies Claire Zachanassian, the oft-widowed richest woman in the world, who returns to the hardship-stricken town of her birth. The locals pray that her wealth will bring them a new lease on life, but the carefully plotted renewal she offers carries a dreadful price. Tony Award-winning director John Doyle helms this incendiary musical - one of the last collaborations between the incomparable John Kander and Fred Ebb, with a book by Tony Award winner Terrence McNally and choreography by Graciela Daniele. Sardonic and morally complex, The Visit asks: What can your heart afford?
Nikos Stage
A Great Wilderness | July 9 - July 20, 2014
By Samuel D. Hunter

After decades as the gentle-natured leader of a Christian retreat that endeavors to "cure" gay teens, Walt is packing up his life and preparing for a reluctant retirement. But when his final client quietly disappears into the remote Idaho wilderness, Walt discovers that his previously unwavering moral compass no longer points the way. With profound humanity and subtlety, OBIE Award-winning playwright Samuel D. Hunter navigates complex moral terrain, exploring the shifting motives and inconstant strength of our personal convictions.
Fool For Love | July 24 - August 3, 2014
By Sam Shepard; Directed by Daniel Aukin
With Lauren Ambrose and Chris Pine
Holed up in a seedy motel on the edge of the Mojave Desert, two former lovers unpack the deep secrets and dark desires of their tangled relationship, passionately tearing each other apart. Beaten down by ill-fated love and a ruthless struggle for identity, can they ultimately live with, or without, each other? Led by director Daniel Aukin, riveting young actors Chris Pine - returning for the first time to the stage where he launched his career - and Lauren Ambrose, in her Festival debut, bring a raw sexy energy to Sam Shepard's landmark myth of the new Wild West.
The Old Man and the Old Moon | August 6 - 17, 2014
By PigPen Theatre Co.; Directed by Stuart Carden and PigPen Theatre Co.
The endlessly imaginative PigPen Theatre Co. comes to Williamstown with a luminously lo-fi spectacle that elevates traditional storytelling to high art. Their fantastical, song-filled tale takes us to the end of the world when an old man abandons his duty of filling the moon with liquid light to search for his missing wife. With a rollicking array of ever-changing characters, inventive theatrical effects, and an infectious contemporary folk sound, these seven young actor musicians transform the seemingly ordinary into sheer wonder.
Hi there. Comments have been closed for this item. Still have something to say? Contact us.