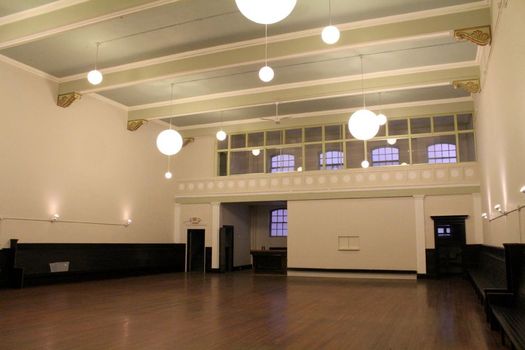 By Lauren Hittinger
One of the most interesting buildings in Troy has been hiding for years.
I've walked by 55 Third Street in downtown Troy dozens, if not hundreds, of times before I happened to get a tour a while back from then-owners Steve Rein and Niki Haynes. And I was completely blown away. The old Knights of Columbus building is so cool, filled with old Troy details and fabulous little nooks throughout. So when I heard it was going to be turned into an event space by its new owners -- Heidi Benjamin and Frank Sicari -- I was definitely interested to learn more.
I recently toured the space again and chatted with Benjamin and Sicari about their plans for this surprising building.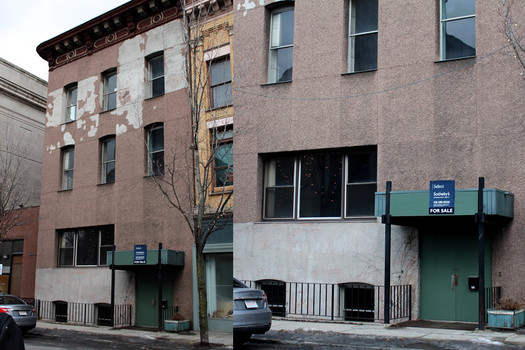 First, a bit of building backstory, as told by former owners Steve Rein and Niki Haynes:
55 Third Street in Troy, New York, was built in 2 main stages. The original structure, a grand Victorian city home, was built in 1865 by William Farnham. Early photos show it had a side porch, and we assume there was a carriage house and garden in the rear. In 1889, it was purchased by the Frear Brothers, who operated a successful department store in Troy. They converted the building to mixed commercial use, housing a lawyer's office, rug merchant, tailor and hat shop. ...
In 1918 the Knights of Columbus purchased the property, and developed a major expansion to the rear, featuring a two-story ballroom, third floor gymnasium, and a 4-lane bowling alley in the basement. This addition uses steel I-beam construction, which allows for the large expanse of the rooms, without the need for support columns. Both the 1865 and 1920 structures are incredibly well built, still plumb and solid. The Knights thrived in their clubhouse, and in the 1970′s they modernized the bathrooms, kitchen, plumbing, electrical and reconfigured some spaces. They were also faced with the choice of repairing the original brownstone facade, or modernizing the facade and entry. They installed a metal framework over the remains of the old facing, and covered it with crushed rock stucco. That completed the project that we refer to as "The Facade-omy".
In the 1990′s the Knights Council struggled financially, and fell behind on building maintenance and property taxes, finally losing the building to the City of Troy in 1999. Before turning over the building they held an auction to sell the contents and fixtures, including the grand marble fireplaces, doorknobs, light fixtures, and everything else including the kitchen sink, ... literally.
Basically, the building is a classic Troy brownstone on the front, with a huge function space on the rear of the building -- not that it would necessarily be apparent while looking at it from the street.
There are a bunch of photos in large format above -- click or scroll all the way up.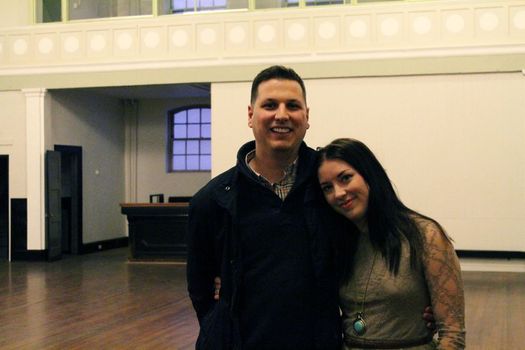 Frank Sicari and Heidi Benjamin
So, what to do with all that surprising room? Benjamin and Sicari are opening Takk House, an event space for weddings, private parties, music gigs, photo shoots, and other similar uses. They're also planning to live in the building, and, eventually, add bed-and-breakfast rooms.
Here's a quick chat with them about their plans:
What drew you to this location? What is the most interesting feature of the building?
We heard about this place called "Halfmoon Hall" that was for sale just down the street from where we live. It had been on the market only a week. We took a trip over to the building and liked the location. From the outside the space looks like an old, rundown building.
Funny story is that when we were looking up at the space a random person just announced to us in passing that it was "the most beautiful building in all of Troy." We both looked at each other puzzled and thought...this?
It wasn't until the showing that we completely fell head over heels in love with 55 3rd St. From the outside the space looks a bit rough due to the facade deteriorating. We never in a million years would have thought the inside would be so magnificent. It is like a hidden treasure. I think that is the best part of all.
 
Had you planned to start an event space, or did the building inspire you?
We came up with the vision of opening our own event space about a year and a half ago. Heidi, being a wedding photographer, has had the honor of visiting all kinds of different spaces across the US. We thought a more offbeat venue would be a great addition to the area. We started bouncing the idea off clients and they all had similar stories and struggles when it came to locating a fun space they could really adapt to their personalities. 
 
Why Troy?
We have lived here for a few years and have become attached to the city and its amazing energy. Â There is a lot of history, culture, diversity and just plain excitement here. A lot of creative-minded people thriving here and the community is so supportive and embracing of change.
This is a huge undertaking. What's your plan of attack? 
We have split our initial to-do list into phases. It helps with feeling too overwhelmed. We are getting a ton of help from friends and family. This is a true labor of love and we are trying to do as much of this ourselves as we can. We are very lucky to have such a great group of people supporting us.
This summer/fall 2014 we will have the main ballroom, two suites, food staging facility and bar area available for rent. For 2015, we are working on creating 6-7 boutique bed and breakfast style rooms for overnight accommodations. These rooms will be available for private parties only. We also have plans to restore the bowling alley that was installed in the 1920s.
To help with your decorating and styling needs we have an inventory of vintage and industrial goodies we've been collecting and building an inventory of. These will be in a staging prop house area and available to event rental.
 
The facade is a little scary. What are your plans to spruce it up?
It has some character and needs some love but are hoping not too many people judge a book by its cover until we can give it the attention it needs. The inside is in great shape and that is where all the fun will be had. When we can we would like to restore the facade back to its original design. Troy has a great program to help out so we are excited to work with the city in the future.
What types of events will you be hosting here?
Wedding ceremonies and receptions, private parties, music gigs, film, photo shoots, art exhibits, dance showcases, fundraisers, corporate events, premiers, film screenings, community events, flea markets, product launches and anything else worth celebrating!
Is this going to be a full-time project? Will you still continue your wedding photography business? 
Takk House will be available 7 days a week but we foresee most events taking place on nights and weekends. I will continue my photography business as it stands today. I currently am booked for 2014 and most of 2015. I hope to work with some of our Takk House clients as well!
This conversation was edited and condensed.
____
Benjamin and Sicari say the Takk House will be available for showings in April, and it will start hosting events in May. If you're interested in renting the space, contact them for info and rates: hello@takkhouse.com.
Oh, and the name, Takk House? From the facility's about page (which also includes old photos of the original facade): "Takk means 'thank you' in Icelandic. Pronounced 'tock" like 'tick-tock,' the sound a clock makes."
Lauren writes about shopping, crafting, and living well on a small budget at The Thrifty Ginger.
Hi there. Comments have been closed for this item. Still have something to say? Contact us.