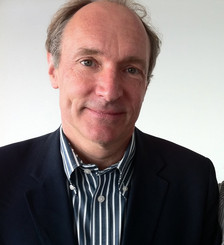 Tim Berners-Lee -- who actually has that line in his CV -- will be getting an honorary degree at RPI's commencement in May. Geneticist Mary-Claire King -- who identified the BRCA1 gene -- will also be getting an honorary degree. And IBM CEO Virginia Rometty will be giving the commencement address.
All three will be participating in a discussion led by Shirley Jackson -- "Creating Clarity in Complexity to Enable Transformational Change" -- on May 23.
Berners-Lee created the underlying protocols for the web in 1989 while working at CERN, the particle physics lab, in Switzerland. The idea behind it was to make it easier for scientists and researchers at different institutions to share information (though cat pictures were probably a close second reason). CERN had the first website.
As it happens, the actual room -- you know, the physical space -- where the web was invented is actually in France, just over the border. (There's a plaque there now.)
Hi there. Comments have been closed for this item. Still have something to say? Contact us.