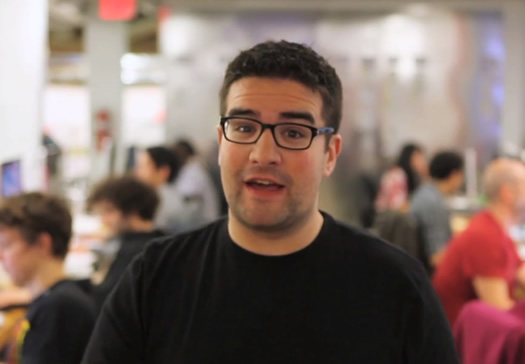 The invention/product company Quirky announced today that it will be opening an office in downtown Schenectady. The news has created a bit of a stir not only because the company is promising 180 jobs, but also because Quirky and its founder -- Ben Kaufman -- have been getting attention and hype in national media over the last few years.
So, what's the deal with the Quirky? Here's a quick backgrounder...
Basics
Quirky was founded in 2009 by Ben Kaufman. It's rolled up $175 million in venture capital from high profile funds such as Kleiner Perkins and Andreesen Horowitz. Its headquarters are in NYC. [Crunchbase]
What does it do?
The very short version: It collects ideas for consumer products from a community of inventors, selects the ideas that appear most promising, and then works to turn those ideas into actual products sold to consumers.
Part of this process is a bit... you know... quirky. For example: The company picks ideas in an open meeting style format:
The company recently hosted a version of one of these events at SXSW. Among the panel of experts for the event: Bill Nye and Andy Samberg. [CNN/Fortune]
If the product makes it to market, the original inventor ends up with a small cut. [NY Mag]
Another way to look at it: Quirky sort of occupies a spot somewhere in the same space with Etsy and Kickstarter. But where those two services only take on one part of the product process (online commerce, funding), Quirky aims to handle the whole thing more or less start to finish.
OK, so what kind of products?
Quirky says it's developed 427 products so far. The products range from flexible power strips to an egg yolk separator to a beach tote.
Relationship with GE
Quirky also has a partnership with GE to create internet-connected products. The most notable: an air conditioner that can be controlled via a mobile app. [Engadget]
The relationship with GE helped draw the company to Schenectady. [Biz Review]
Ben Kaufman
As startup founders go, Kaufman falls into the "charismatic" category. From an 2013 October profile of the company in Inc (this clip is from section about the company's product idea process):
Quirky CEO Ben Kaufman hosts and is his own opening act. Stout, dark-haired, 26 years old, Kaufman warms up the room and introduces the night's panel before going quiet and staring into the dark to watch a prompter count down to 7 p.m., at which time the cameras go live. "Ladies and gentlemen," Kaufman then bellows, "welcome to product evaluation!"
For a guy who didn't study theater or even go to college, Kaufman is an excellent speaker and showman, a natural evangelizer who is passionate, glib, and blessed with excellent timing. Being an entertainer comes naturally, but he's not putting on a show for the sake of entertainment; the spectacle is calculated. "Invention is this scary thing," he says. "You hear the word, and it seems complicated, involving lab coats." Broadcasting Evals is meant to explode that notion, to make any prospective inventor who tunes in think, I could do that. I'm just like him. ...
Kaufman, as always, is wearing a black short-sleeved T-shirt. He has at least 100 of the shirts, made by Banana Republic, chosen because he travels often but hates to pack, and if he ever forgets to pack enough or extends a stay, there's always a Banana Republic nearby. Typically, he rounds out an outfit with jeans and sneakers.
Kaufman comes across as outspoken and blunt. [Forbes]
This isn't Kaufman's first company. He started Mophie, a mobile phone accessories company, in Burlington in 2005. He sold it in 2007 to pursue the idea behind Quirky. (He recently wrote about that experience.)
Company culture
This staff recruiting video might give some sense of Kaufman and the company culture:
Also: The company has tried shutting down for one week each quarter to give people time off (it sounds like it's still working out some of the complications of that). [Business Insider x2]
Wasn't there some feud between Quirky and Oxo?
Yep. Quirky accused of Oxo -- you know, the rubber grip utensil brand -- of ripping off one of its products, a dust pan. Quirky made a big deal out of it, organizing a protest and putting up a strategically-placed billboard in NYC. Then Oxo politely and methodically took apart Quirky's complaint. [Wired] [Tech Dirt]
One other thing
One of the things that's interesting about this announcement is that it represents the migration of a company from NYC to the greater Capital Region. Etsy did something a similar a few years back, when it set up an office in Hudson.
Such a move makes sense -- real estate and office space is heck of a lot cheaper here than it is in Manhattan, Brooklyn, or even some of the close-in NYC suburbs. (Quirky's getting something like 20,000 square feet in downtown Schenectady, so we're guessing they're saving a bunch of money compared to NYC.) And if you need to get people together in one place -- something that's becoming less common in the age of work from everywhere -- the Capital Region is just a 2.5 hour train ride from Manhattan. (Quick quiz: Which of the Capital Region's major downtowns has a train station located right there...) [Daily Gazette]
It's something to keep an eye on going forward.
Hi there. Comments have been closed for this item. Still have something to say? Contact us.