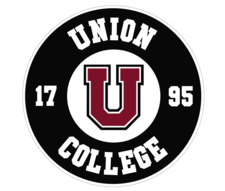 Over the weekend the Union men's hockey team beat Providence 3-1 to advance to the semifinals of the NCAA tournament -- AKA, The Frozen Four. Two more wins and Union takes the national title.
It's the Dutchmen's second trip there in the last three years. They lost to Ferris State in the semis in 2012.
Union topped one of the national polls and was #2 in another just before this year's tournament. It is the tournament's #3 overall seed.
The Dutchmen will face #2 overall seed Boston College April 10 in Philadelphia. The game is scheduled for 5 pm on ESPN2. #1 seed Minnesota takes on North Dakota in the other semifinal.
Union's recent hockey success is remarkable given the size of the school. After the jump, a quick look at how Union stacks up in enrollment and athletics spending against its Frozen Four competitors...
Union vs Boston College vs Minneosta vs North Dakota
Here's how it stacks up against the Frozen Four teams this year:
Numbers via US Department of Education for the school year ending 2013 June. Enrollment = full-time undergrads. Athletics spending total = all spending on athletics, men's and women's. Non-footbal;/basketball spending is spending on men's sports that are not the two mentioned (total spending numbers per sport aren't broken out beyond football and basketball).
Hi there. Comments have been closed for this item. Still have something to say? Contact us.