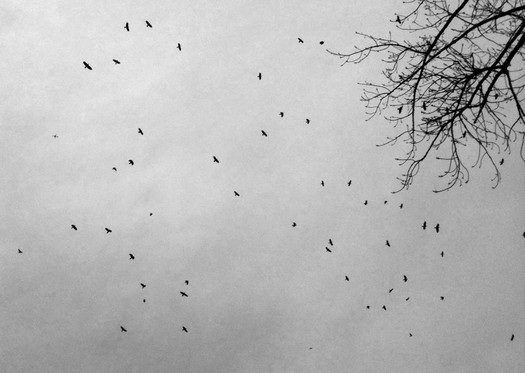 A spring arrives (finally), it's about that time the large flocks of crows that hang out in neighborhoods such as uptown Albany and other spots around the area go... well, wherever it is they go in the summer. The flocks are regarded as nuisances -- see the USDA trucks that shoot noisemakers at them -- but over the last few winters we've come to appreciate them as chatty winter-time neighbors, a sign of life during the cold months.
Anyway, this is all a long of way saying that as the crowds of crows head off to wherever they're going for the season, we enjoyed this clip about the birds from a long ago David Quammen piece:
Crows are bored. They suffer from being too intelligent for their station in life. Respectable evolutionary success is simply not, for these brainy and complex birds, enough. They are dissatisfied with the narrow goals and horizons of that tired old Darwinian struggle. On the lookout for a new challenge. See them there, lined up conspiratorially along a fence rail or a high wire, shoulder to shoulder, alert, self-contained, missing nothing. Feeling discreetly thwarted. Waiting, like an ambitious understudy, for their break. Dolphins and whales and chimpanzees get all the fawning publicity, great fuss made over their near-human intelligence. But don't be fooled. Crows are not stupid. Far from it. They are merely underachievers. They are bored.
That clip is via Smithsonian mag, which had a post this week pointing out that crows understand water displacement.
As the crows leave and the ice melts, the Canada geese have returned. And they're rather rude. We'd take the crows over the geese any day.
Earlier on AOA: a few more items about crows
Hi there. Comments have been closed for this item. Still have something to say? Contact us.