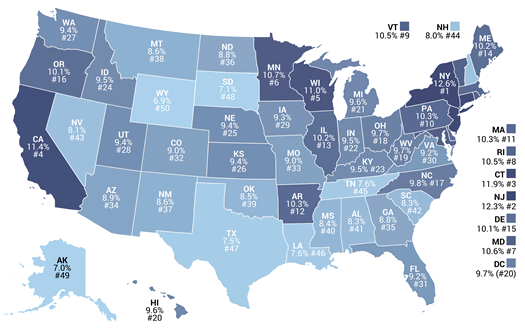 New York State once again topped the Tax Foundation's annual list of highest state-local "tax burdens" as a percentage of income. The think tank calculates that 12.6 percent of income in New York goes to state and local taxes . (The US average is 9.8 percent.) The figures are for fiscal year 2011.
It's the third straight year New York has topped the list. It's joined in the top three by New Jersey and Connecticut, a trio the Tax Foundation reports has held the three spots since 2005. Somewhat interesting to us: New York's rate has more or less held steady over the last 35 years, according to the rankings.
New York's place in the top spot isn't surprising. But when it comes to these sorts of lists we'd like to also see what people are (or aren't) getting for the taxes they pay. A small, localized example: Property taxes in the city of Albany tend to be higher than some of the surrounding suburbs, but those taxes cover services -- like garbage collection -- that you might have to pay for separately somewhere else.
Highlighting what people are getting for their taxes wouldn't necessarily let New York State off the hook for its high-tax rep. But it might make some of the trade-offs more clear and specific.
The Tax Foundation describes itself as an "independent tax policy research organization." Here's a run through of the methodology for its tax/income calculations.
Consolidation
The Cuomo admin has been pushing consolidation and shared services as a way for local governments to save money (and, you know, not raise taxes). Over at Capital, Jimmy Vielkind has an article looking at the issue of New York's many, many layers of local of government -- and finds some of these layers more or less only exist on paper, and the touted savings from consolidation could be hard to come by.
Hi there. Comments have been closed for this item. Still have something to say? Contact us.