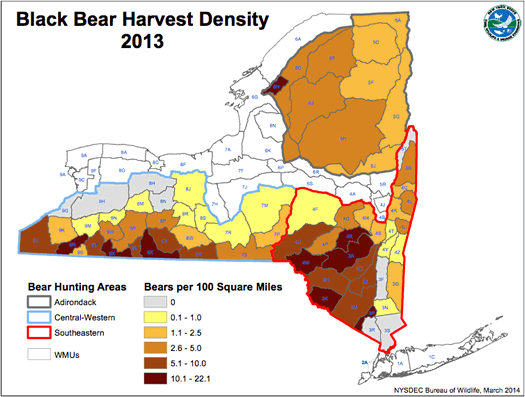 Hunters in New York State killed the second-highest number of bears on record in 2013, according to the state Department of Environmental Conservation. The total: 1,358.
The DEC released its "bear harvest" summary for 2013 today -- it's basically a recap of where hunters killed bears last year. A few bits:
+ The number of bears killed by hunters in the state has been trending upward over the last two decades. The average number killed from 1991-2000 was 722. Since 2001, it's been 1182 per year.
+ Hunters killed 35 bears in the Capital Region's core counties last year (Albany: 7, Rensselaer: 14, Saratoga: 14). That's up from 30 in 2012, and 26 in 2011.
+ DEC says the higher number of bears killed by hunters "reflect that bear populations have increased over the past decade." Apparently food for bears was abundant last year.And New York has "excellent bear habitat," according to a statement by DEC commissioner Joe Martens in the press release today.
+ The state has been opening more areas for bear hunting over the last decade -- including a large stretch of the area east of the Hudson from Westchester up through Washington counties in 2011. DEC says it's currently considering a plan to open all of upstate to bear hunting.
map: NYS DEC
Hi there. Comments have been closed for this item. Still have something to say? Contact us.