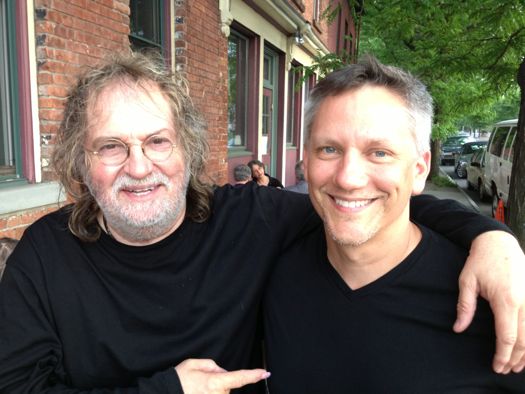 Music makes a Monday morning more palatable. After the jump, you can check out the playlist of tonight's My Exit DJ, Andrew Kreshik. Every Monday WEXT lets guest DJs like Andrew program an hour of music from their own list of favorites. It's a fun way to discover music you didn't know about, or rediscover old gems.
Tonight, Andrew's diverse mix about relationships.
Who?
I'm Andrew Kreshik and this is my second crack at playing DJ. The ease of assembling that first playlist has passed and efforts now must be focused on avoiding the sophomore slump. I'm still in and around Troy for the most part, working as a member of the city's Planning Department by day, seeking the deeper meaning of life other times.
How would you describe your taste in music?
Polyphagous. Think of a baleen whale consuming musical krill. The difference is that a really good tasting crustacean gets noticed and becomes sought after rather than routinely devoured. For this show, I've chosen some sounds that include a heapin' helpin' of jangles, chunks, and perspectives on relationships.

A few songs from Andrew's My Exit:
"When Things Go Wrong" - Robin Lane and the Chartbusters
Although I didn't have cable when MTV went on the air, this song was fortunate enough to have a video for it and was played in the network's first hour of air. Fortunately, I did have a radio and a local college station that played this stuff in the evening. Robin Lane has always been early, often too early. She was married to Andy Summers before the Police, sang backup on Neil Young's second album, and hit the Boston scene as punk was taking root. Had the group held on for a few years beyond 1983, Robin's voice and the band's three guitar attack could have been something much bigger.
"Salome" - Old 97's
Rhett Miller has a dual persona. As a soloist, he is a poet drinking whisky in a smoky bar, contemplating love gained and love lost. As the front man for the Old '97's, he throws the whiskey bottle against the bar's brick wall and physically rejoices love newly found or works aggressively to move past the failure. Regardless what iteration you listen to, Miller is a masterful lyricist. With the Old 97's however, you get music that burns down the barn.
"Head" - Lydia Loveless
Who is this woman and why has it taken so long for me to find out about her?!? No big, I know her now and hopefully many others will as well. Using a rich, honed voice that belies her age to bluntly state honest, matter of fact lyrics, Loveless' songs don't present a right or wrong situation for the listener to consider. Rather, they are Siren statements of self-examination; one way modulated salvos that force us to hear unapologetic tales of anger, longing, desire, and the need for change.
"Carry My Picture" - The Connells
I first heard the Connells while working in DC. They are from Raleigh, North Carolina and were able to parlay that geographical location to get them some larger market air time. Although fairly successful in Europe, the band unfortunately never popped out of the REM sound shadow domestically, even with such a solid album as Ring. Using folk and Celtic influences throughout much of their work, the Connells crafted some great pop music with intelligent lyrics and catchy riffs.
"Picture Cards Can't Picture You" - Blaze Foley
Why does the flame of genius gets snuffed so quickly on earth? A friend of Townes Van Zandt and an influence to many artists, Blaze's 39 years in this world gave us beautiful melancholic songs like this as well as "If I Could Only Fly" and "Clay Pigeons". Regrettably, master tapes of his recordings tended to disappear under absurd circumstances. This cut thankfully survived from a gig at the Austin Outhouse. (Gurf Morlix - thanks for the stories about your friend when you played the Ale House last year.)
You can hear Andrew's My Exit show Monday night at 11pm on 97.7, Saturday at 8 am, or at exit977.org.
Here's how to schedule your own My Exit show on WEXT.