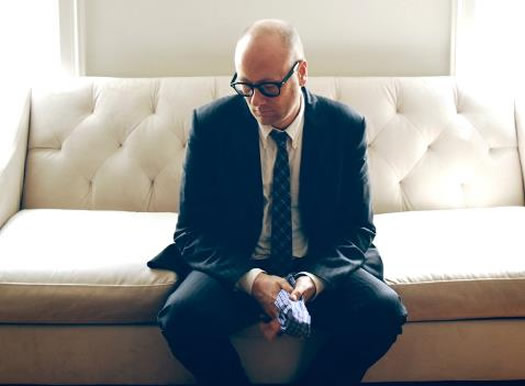 Updated May 9
The schedule for this year's Tulip Festival is out. The music headliner this year is the indie pop duo MS MR. They've been replaced by Mike Doughty -- see update below.
A quick scan version of the music slates for both the main and local stages -- along with embedded videos of the acts -- is post jump. As usual, the lineup includes both national and local acts.
As you know, Tulip Fest includes a bunch of events, including the crowning of the new Tulip Queen. Here's the full event schedule.
Tulip Fest is May 10 and 11 this year.
Descriptions via the Tulip Fest press release.
Saturday
Main stage
Washington Park parade grounds

1:15 pm: Panama Wedding
"A concoction of deliriously joyful pop, adult-contemporary and electronic music." Panama Wedding is replacing The Chain Gang of 1974, which was originally in this slot.

2:15 pm: Sleeper Agent
"High energy, hook-filled, Kentucky-fried garage rock."

3:15 pm: Rubblebucket
"This Brooklyn septet combines hip-shaking performances and an eclectic flurry of world-music influences into a catchy pop package."
4:30 pm: MS MR
"(Say it "Miz Mister"). MS MR had to cancel because of illness. They've been replaced by...

4:30 pm: Mike Doughty
From the city of Albany office of special events:
In a statement to WEQX, MS MR lead singer Lizzy Plapinger said, "I wanted to personally reach out and apologize for having to cancel our performance at Tulip Festival on Saturday. We both went to college in upstate New York and have an incredibly special place in our hearts for it, making this event all the more personal and important to us. I've been bedridden all week and can't even walk around. We would NEVER cancel a show unless we had to and it was serious (which this is) and hope you will understand. Luckily it looks like you've booked a lot of other awesome bands so it should still be a great event. Hopefully we can make it up to you as soon as possible!"
Local stage
Washington Park Lakehouse Amphitheatre

1 pm: Rebel Darling
"Eloquent, soulful singer-songwriter M.R. Poulopoulos, joined by the Capital Region's finest roots musicians."

2:15 pm: The Parlor
"The enchanting, inspiring, magical musical mission of Eric Krans, Jen O'Connor and friends."

3:30 pm: Accents
"Atmospheric, anthemic indie-folk driven by lush harmonies and soaring guitars."

4:45 pm: Titanics
"Organic and electronic sounds converging into ethereal, unforgettable sonic textures."
Sunday
Main stage
Washington Park Parade Grounds

12:45 pm: Nicole Vanessa Ortiz
"A talented performer with a stunning voice, paying tribute to the music of Whitney Houston."

1:30 pm: Caroline Glaser
"St. Louis indie-folk singer-songwriter and popular contestant on NBC's 'The Voice'."

2:45 pm: Graham Tichy
"Leading a sensational trio, this astounding guitarist distills the history of rock 'n' roll into every note."

4:15 pm: Emerson Hart
"Frontman of Grammy-nominated, multi-platinum alt-rock band Tonic and an acclaimed solo artist, Hart is a singer-songwriter with a gift for great melodies and lyrics."
Local stage
Washington Park Lakehouse Amphitheatre
1 pm: The Kimono Dragons
"Surf-fuzz supergroup featuring members of local rock 'n' roll favorites Charmboy, Alta Mira and the Pistolwhips."

2:15 pm: The Chronicles
"Stylistically combining jazz, hip-hop, funk, soul and gospel into a unique sound beyond genres."

3:30 pm: The North & South Dakotas
"Harmony-rich folk-rock in the spirit of classic American roots music."

4:45 pm: The Lucky Jukebox Brigade
"A horn-fueled, seven-piece indie cabaret dance party powerhouse."
photo via Mike Doughty Facebook
Hi there. Comments have been closed for this item. Still have something to say? Contact us.