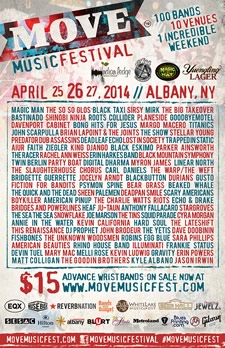 The Move Music Festival is returning to Albany April 25 and 26. Wristbands for the multi-venue event are on sale now -- they're $10 ahead for a show that Friday, and $15 for all the venues on Saturday.
The thing that distinguishes the Move festival is that it brings together a ton of acts -- more than 100 this year -- at a bunch of venues -- more than 10 this year -- in the Lark Street area and downtown Albany.
The headliners this year are: Magic Man, The So-So Glos, Black Taxi, Sirsy, Mirk, and The Big Takeover. As mentioned, the entire lineup includes are a bunch acts, including many locals.
The festival also includes an industry event "for all performers to network and gain varied perspectives of the multi-faceted music industry." It includes a keynote talk and roundtable discussions with musicians and industry professionals.