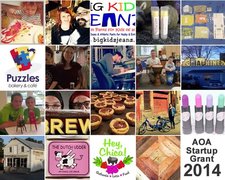 Just a quick note that crowd voting for the AOA Startup Grant finalists ended today at 1 pm.
We'll announce the winners -- along with the Editors' pick for the third finalist spot -- on Monday.
Thanks to everyone who took a moment to vote. There were some tough choices this year because the field looks very strong.
The All Over Albany Startup Grant contest is sponsored by sponsored by Staff Ciampino & Company P.C., Certified Public Accountants, with prize money from Berkshire Bank.