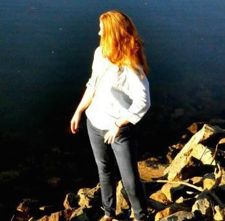 Monday is My Exit day at WEXT -- the day someone from the Capital Region shares an hour of their favorite music with the rest of us. It's a fun way to discover new, or new to you music, and rediscover some old favorites.
Tonight, music reviewer Tabitha Clancy shares pieces from some of her favorite singer/songwriters, from Johnny Cash to Ryan Adams.
Who?
I'm Tabitha and music is my passion. So much so that all of my free time is spent nurturing that love. I am a staff writer and photographer for UpstateLIVE Music Guide. I'm often on scene to review a show and try to successfully capture the essence of the songs, the artists, and the synergistic relationship with the crowd.
While reviewing discs, writing show reviews, and covering festivals keeps me plenty busy, I round out the musical experience by actively volunteering at Exit 97.7 WEXT. I help with the day-to-day operations, in-studio interviews, voice-overs, music selection, and programming.
What type of music do you enjoy?
I am a roots kind of gal. I love Americana, folk, and bluegrass. Both traditional or crossover genre blending tunes work for me. I enjoy a bit of rock and roll, soul and funk, too. I have a giant gooey sweet spot for singer/songwriters. I thoroughly revel in bands that utilize not-so-traditional instrumentation.
A few songs from Tabitha's show:
"San Quentin" by Johnny Cash
I fell in love with Johnny and June's life when I first heard him play San Quentin. I was five years old. I believe Johnny Cash to be essential to any musical collection.
"Folk Bloodbath" by Josh Ritter
Not so much in this particular song, though no lack of poetic imagery, Josh Ritter digs in his heels with his euphonious lyrics appealing to the romantic sweet spot in all of us. "Folk Bloodbath" is a stand-alone genius song merging a few of the old favorite folklore characters.
"Desire" by Ryan Adams
No doubt if a song shows up on an episode of House MD, it's definitely a good one. Ironically, "Desire" shows up on Demolition, an album compilation of his forgotten demos. "Desire" is an amalgamation of harmonica, perfectly placed pedal steel and the boom of a kettledrum sewn between blurred lines of love and addiction.
"Vincent" by Don McLean
Aside from Vincent van Gough being an absolute favorite artist of mine, Don McLean is a must include. He is a songwriter's writer and a truly merges the essence of an idea with vivid lyrics and matching melodies.
"Chasin' a Rainbow" by Railroad Earth
A great example of a genre-blending band is Railroad Earth. "Chasin' a Rainbow" is from their most recent installment, Last of the Outlaws. A fitting album title because these industry bandits have sat not so idle on the outskirts of the music world. With a singer/songwriter on lead vocals wielding a beat up old acoustic, flanked by three classically trained multi-instrumentalists, there is an evolution of songs throughout.
You can hear Tabitha's My Exit show Monday night at 11pm on 97.7, Saturday at 8 am, or at exit977.org.
Here's how to schedule your own My Exit show on WEXT.
Photo: Susan Skidmore