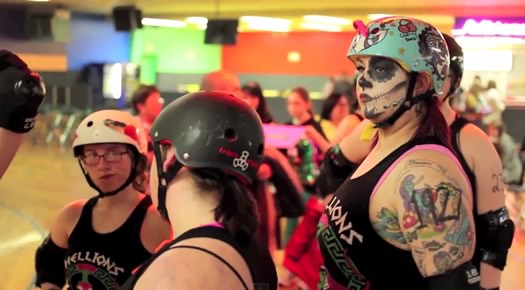 The Knickerbocker Film Festival returns this Friday, April 18 to start week of screenings at locations in Albany and Troy. This year's festival slate includes 12 films -- including fiction and documentaries -- from filmmakers both local and international. (The film lineup, with short blurbs, is after the jump.)
New this year is the festival's expansion to Troy with a screening at the Arts Center this Friday night. Among the films lined up for that screening: Hellions, a documentary by Shannon Straney about the Hellions of Troy roller derby team.
Tickets for screenings are $10 and available online. There's also an awards show and reception next Thursday, April 24, at Taste in downtown Albany -- tickets for that are $35 ($30 with festival screening ticket stub).
AOA is a media sponsor of the Knickerbocker Film Festival.
Film lineup
All descriptions from festival organizers.
"Perfect Life, Inc." by Nik Shpillberg from Westport, Conn.
- A couple's attempt at creating the perfect moment.
"On the Rainy River" by Brendan Bequette from Albany, N.Y.
- A Cold War-era veteran looks back on a decision he may have regretted.
"Directors on Directing" by Damien Patrik from Clifton Park, N.Y.
- Four directors talk about the secret to their craft.
"Wake of Irene: Heart of the Storm" by Mike Feurstein from Schenectady, N.Y.
- Depicts the harrowing accounts from residents, of the moments when Irene swept their homes and certain towns off the map, including footage from the storm, and the rebuild effort afterward.
"Thanks For Looking: Behind the Art of Welldunn" by John Glenn from Albany, N.Y.
- Meet Welldunn (Gregory Maxwell Dunn), Albany's own street artist and building renovator. Conflicted by his appreciation of the history that the decrepid textures reveal in the old abandoned Albany buildings that he works with and his job to restore them. See how he finds a way to preserve the history of these buildings in his own unique and artistic way. From ernest interviews about the adversity he's overcome to secret skate parks, see why he is referred to by many as a "kingpin in the art community" and "the artist and residence of Albany".
"Au Nom De L'Honneur (In the Name of Honor)" by Nathalie Leclercq from Belgium
- Lea, a young Lebanese, is pregnant. Lea takes refuge then at her brother's Elie, in Belgium, because the father of her baby is of Muslim confession. Impossible that the Christian family of Lea accepts this injurious situation. Elie, her big brother is in charge to restore the honor of the family which was scoffed.
"Mr. Bear" by Andres Rosende from New York, N.Y.
- A man is confused for a cleaner and attempts to do the cleaner's job before he gets in further danger.
"Cargols!" by Geoffrey Cowper from Spain
- At a friends' party, a man tries to talk to his ex-girlfriend but is interrupted by a giant snail.
"Dahlias: Wild Card" by Sonalii Castillo from Los Angeles, Calif.
- Two assassins bound by childhood friendship and betrayal rekindle an old pact to serve vengeance.
"Ilium, New York" by Patrick Stephenson from Albany, N.Y.
- A post-industrial love story, "Ilium, New York" is a day in the life of a fictional rust-belt town inspired by Kurt Vonnegut's "Player Piano". The work also functions as an origin story of "The Rags" - invented in 1970's Chicago by Dan Giesler, uncle of the filmmaker. With pocket lint for a budget and a maximum crew of two, the film was shot over three winters in Upstate New York. The next project, "Sacred Miracle Cave", will serve as the second installment of a planned trilogy.
"El Tiempo del Agua" by Shahriar Adham El Kosht from Canada
- Today is a very important and tense day for Rosa. She has decided to leave the safety of home, and meet her estranged lover with whom she hasn't spoken in years. But in doing so, she also leaves her past and secrets vulnerable to be discovered by others.
"Hellions" by Shannon Straney from Albany, N.Y.
- A documentary on the Troy Hellions roller derby team in Troy.
____
still from Hellions by Shannon Straney