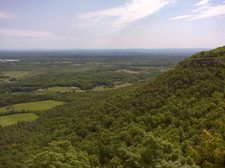 State parks in the Capital Region are getting $8.675 million for a handful of construction/repair projects, the Cuomo admin announced today.
The biggest chunk -- $3.8 million -- has been tagged for the construction of a new visitor center at Thacher Park. Dan Keefe, a spokesman for the state Office of Parks, Recreation and Historic Preservation, told us this afternoon that the agency is currently also raising private money for the project, but it's scheduled to begin construction this fall with the goal of being finished by fall 2015.
As projected in the the park's master plan, released last November, the new facility will include a visitor center, event space available for rent, exhibits, and offices. Keefe said it will also have a view from the escarpment.
The Thacher Park master plan covered a wide range of projects intended to be spread out over many years. Keefe said a a few of them are lined up for work this season -- including replacement of bathrooms in late August.
A list of the other regional park projects funded in today's announcement is after the jump.