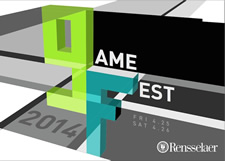 The annual GameFest at RPI -- a series of events focused on video games -- returns this weekend. And the showcase of student-designed games is open to the public. Blurbage:
The games Rensselaer students will showcase this year are widely varied and include Kajo, a game in which players run and jump their way through a mystical, floating city and use concepts of physics to improve their parkour-style moves. Another game, Space Luddites, features a group of characters fighting back against an oppressive, dystopian future and a powerful company that controls all technology.
The showcase is at EMPAC from noon-3 pm on Saturday. It's free.