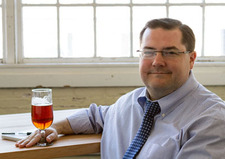 Could be interesting: Beer writer John Holl will be at the Ruck in Troy May 13 for an Allagash beer dinner. Tickets are $50 and available at the bar or via email (see the link).
Holl is the editor of All About Beer Magazine, and the author of the The American Craft Beer Cookbook. He's also lined up for a book signing that same day at Market Block Books in Troy from 4:30-6:30 pm.
His definition of "craft beer"? From an interview last year: "It's an evolving term. It used to mean small (micro brews) but now many are not that small. So, craft is really, to me, about beers that are well made that are about flavor and imagination. A beer that is pleasant to drink, and comes from companies with good philosophies and focus on their product and communities."
The dinner at the Ruck is six courses paired with different Allagash beers. A few example courses: "Grilled Texas Creamed Corn with Seared Diver Scallop paired with Allagash Tripel" and "Smoked Braised Pork Belly with Pear Slaw paired with Allagash Dubbel."
(Oh, and just for the sake of disclosure: He's married to Mary's cousin.)
photo via John Holl's website