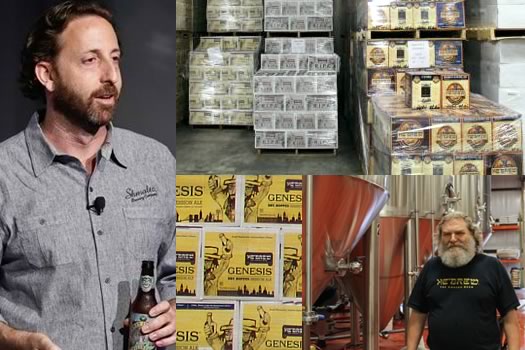 What can you do with an English degree?
Well, English-major-turned-craft-brewer Jeremy Cowan founded Shmaltz Brewing Company. But the idea for a beer company came way before college. It was an inside joke between high school friends who were among the few Jewish kids in their San Francisco school and thought Jews needed their own beer brand. So they came up with "He' Brew" and the tag line, "Don't Pass Over Sober."
More than 20 years later that high school joke has turned into an award-winning craft brewery known for both its playful, irreverent beer names such as He'Brew, Rejewvenator, and Hop Manna -- and for experimenting with interesting blends and styles of beer. And last year, Cowan opened a $3.3 million brewery, the brand's first, in Clifton Park.
Clifton Park? It's a question Cowan gets a lot.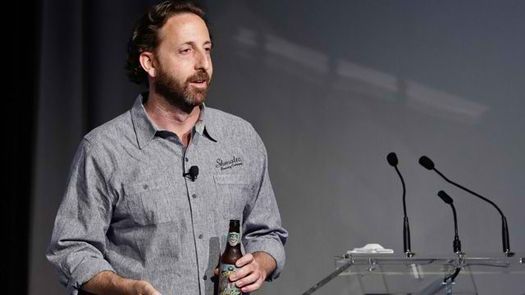 Jeremy Cowan
"It looked like, with breweries in Albany, Saratoga, the Adirondacks and Cooperstown, the Northway needed some brewing excitement," Cowan says, "So we decided to move from Saratoga, Brooklyn and San Francisco to world famous Clifton Park."
Cowan's company had been brewing its beer at Olde Saratoga Brewing Company, one of several contract brewers he'd used before opening the Clifton Park operation last year. "We were a national brand that never really had a regional home the way we do now, " he says. "I had the company in San Francisco, but didn't have a brewery. I lived in Brooklyn, but didn't have a home for people to come visit us. We get the 'Why Clifton Park?' question so often that it's become a point of pride for me -- a world class craft brewery that is distributed in over 40 states in World Famous Clifton Park. Why not?"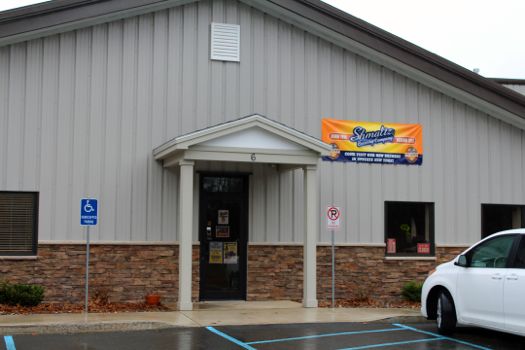 The brewery has a tasting room that's open Wednesday-Sunday.
The same wry wit found in the names of Cowan's brews pervades his conversation. Why did he start Shmaltz? "I was an English major. I thought it would be funny." he says, with a Steven Wright-style delivery.
"I think back on all those times people asked 'Are you going to teach or are you going to write,'" he says. "Now I do financing through the federal government, figure out how to do trademark law and labor law, and blend beer in whiskey barrels. Really, any English major can do it."
Oh, and he ended up writing, too. He recounts the stories of his journey building Shmaltz in a memoir: Craft Beer Bar Mitzvah: How It Took 13 Years, Extreme Jewish Brewing, and Circus Sideshow Freaks to Make Shmaltz Brewing an International Success.
The evolved society
On May 17 Cowan and his staff will celebrate the first anniversary of Shmaltz Brewing's Clifton Park operation with "Beer Gangs of New York", a brewery event at which 17 brewers from around the state will be pouring their own products -- an unorthodox practice among business owners, but craft brewers, he says, are a different sort.
"Well, I think craft beer people are better human beings," Cowan (sort of) jokes, "and the beauty of it is, all you have to do is come and drink some beers with us and you'll be part of this evolved society."
He says the stereotype of craft brewers as a friendly bunch is true. "We are pretty friendly considering we are all tiny fish int he much bigger pond. So if we can work with Brown's, Adirondack, Druthers and others to expose the community to more delicious craft beers, it benefits all of us."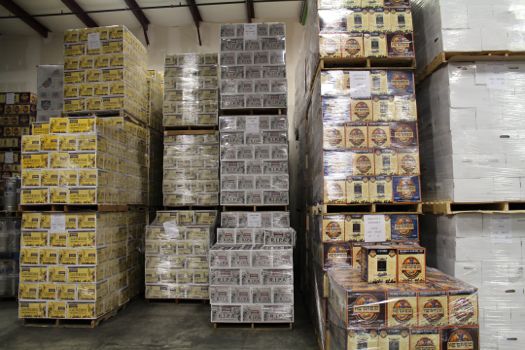 Cowan came to the brewing community without any formal training, never having worked for a bigger brewing company or gone to school for it. So what's been the hardest part of running brewery? Part of that, says Cowan, may have to do with how simple it looks on the outside.
"It's amazingly complicated to run a brewery considering how easy it is to just hang out and drink a bee with your friends," he points out. It's a little bit mysterious because we see beer everywhere we go. It's all over -- every airport, television, magazines, stores. But to manufacture this special byproduct from scratch and by hand with the brewers and suppliers, and to then go out and compete with much bigger companies, and to do that for really not much more money than the consumer has to pay to get something like that -- producing it on such thin margins."
Experimenting
The one member of the 25-member Shmaltz team with a brewing background is brewmaster Paul McErlean. He has a brewing degree from University of California-Davis. He likes to experiment with different flavors and barrel aging processes, including using tequila barrels.
"We're always tinkering," says McErlean, "and it's an art not a science. I'm painting with stainless steel."
He says he gets many of his ideas from cooking: "There's a lot of spices, and a lot of herbs that go well in beer. And when I'm making a beer, I can taste it in my head."

Shmaltz brewmaster Paul McErlean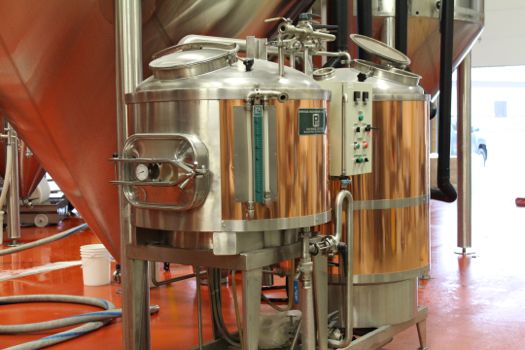 Small containers for test brewing
Big small plans
Cowan says he likes being a small, boutique company. "My goal is not to become at the next being anything. My goal is to sell a little bit more beer and provide better health insurance and make payroll. I want to be a little bigger than we are because I have a big mortgage to pay. We just doubled our staff this year and I want to be sure we have enough to cover the employees, but we don't need to keep doubling and doubling."
Jeremy Cowan spends most of his week here in the Capital Region and heads back to Brooklyn on the weekends. What has he noticed about the area?
"The beer scene locally is just blowing up. People don't realize, when you talk economic stories, we just spent $4 million, Brown's is spending a few million, other brewers are investing millions. The chip fab plant is making big news up there, but if you consider a product that people can actually get their hands on and taste and enjoy... there's a lot of investment. In San Francisco there aren't five local brewers spending $25 million to increase productivity. It's exciting."
____
Lauren Hittinger contributed to this post.
Jeremy Cowan photo courtesy of Shmaltz Brewing
Find It
Shmaltz Brewing Co.
6 Fairchild Square
Clifton Park, NY 12065
Say Something!
We'd really like you to take part in the conversation here at All Over Albany. But we do have a few rules here. Don't worry, they're easy. The first: be kind. The second: treat everyone else with the same respect you'd like to see in return. Cool? Great, post away. Comments are moderated so it might take a little while for your comment to show up. Thanks for being patient.