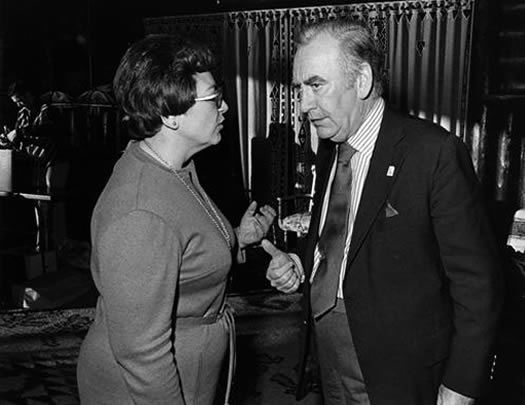 Andrew Cuomo's selection of Kathy Hochul to run as his lieutenant governor this week got us thinking about the job of lt gov, and whether the possible (likely?) election of Hochul could push New York any closer to having a female governor. [Capital]
So let's a take a quick spin through the (low profile) history of New York's lieutenant governors...
The job
The job of lieutenant governor is sort of one of the "oh, you shouldn't have..." type of prizes. It sounds impressive -- and you are next in line to become governor of New York, and president of the state Senate -- but, really, you're mostly just waiting around in case something goes terribly awry. As David Paterson joked (if it was a joke), his job as lt gov was to wake up, call the governor, and the go back to bed if the governor answered. [NYT 2009]
Sure, the lieutenant governor may get assigned some sort of special project -- the Cuomo admin tagged Bob Duffy to be the chair of the Regional Economic Development Councils -- but mostly there's not a lot to do. Which probably explains why lt govs seem to quit fairly often.
In position to become governor?
OK, here's where the part about Hochul comes back in. New York has never had a female governor. So would having a female lieutenant governor (again) push it any closer?
Sort of. Again, the lieutenant governor is next in line for the governor's office should something happen to the governor. And there's a very recent example of how that can play out -- David Paterson taking over for Eliot Spitzer -- even if that was an odd case.
But on the whole, being or serving as lieutenant governor doesn't necessarily put a person in a great position to be governor.
Of the 56 governors New York has had in its history, just 13 of them have served at some point as lieutenant governor (23 percent). In that time, 82 people have either been the official or acting lieutenant governor.*
For some comparison, the United States has had 44 presidents. Of that group, 14 were the Vice President at some point before becoming president (32 percent).
Female lieutenant governors
New York State has never had a female governor. Three women have held the office of lieutenant governor -- Mary Anne Krupsak, Betsy McCaughey Ross, and Mary Donohue.
The ways those three terms played out is somewhat representative of what it's probably like to be lt gov:
+ Mary Anne Krupsak -- who was born in Schenectady, and was the first woman to be New York lieutenant governor, serving with governor Hugh Carey from 1975-1978 -- became irked that Carey wasn't giving her enough to do and ended up challenging him for the Democratic nomination for governor. (Mario Cuomo ended up replacing her as lt gov on the ticket.)
+ Betsy McCaughey was selected by George Pataki as his first lieutenant governor in 1994. She ended up feuding with the Pataki administration over her role, and ended up leaving the Republican Party and ran for governor as a Democrat (she lost in the primary).
+ Mary Donohue, a former Rensselaer County DA and a state Supreme Court judge, was picked by Pataki to replace McCaughey. Her time in office was relatively low profile. Toward the end of her second term there were rumblings that the Pataki admin was upset that she was spending so much time out of state, and there was a rumor that Donohue was irked because she thought Pataki was going to step down before the end of his term and she'd become governor. [NY Post 2005]
Female governors
Female governors were once rare, but they've become more common over the last decade. Some states have now had multiple women in their job -- including Arizona, Connecticut, New Hampshire, and Washington. (Women have had more success getting elected governor in western states.) [Wikipedia] [FiveThirtyEight]
But 24 states have still never had a female governor, and of course, New York is one of those states. [Wikipedia]
Whatever the Northeast's rep is as a progressive region, it hasn't seemingly been that receptive to women as candidates for governor or US Senate, as the New York Times pointed out recently, highlighting issues such as demography and machine politics. [NYT]
Some of it might also be getting more women involved in politics. Kirsten Gillibrand has made this point repeatedly, and has been pushing for more women to "get off the sidelines."
New York still has a long way to go, though. Just 22 percent of the members of the state legislature were women, as of last November. [NCSL]
But maybe things are slowly changing a bit. One local example: In the city of Albany, not exactly a place that's historically embraced rapid political change, both its mayor and state Assembly member are now women.
____
* That number includes people how have been the acting lieutenant governor, even the odd rotating situation involving the state Senate a few years back.
Say Something!
We'd really like you to take part in the conversation here at All Over Albany. But we do have a few rules here. Don't worry, they're easy. The first: be kind. The second: treat everyone else with the same respect you'd like to see in return. Cool? Great, post away. Comments are moderated so it might take a little while for your comment to show up. Thanks for being patient.