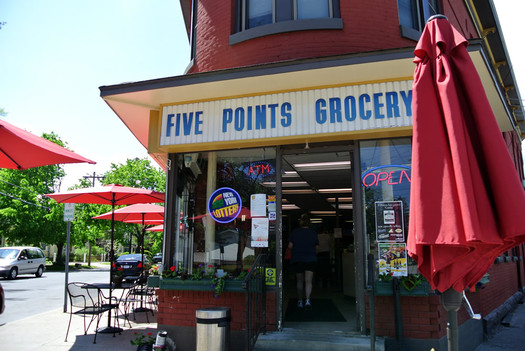 By Deanna Fox
Simple things can be delicious things. A chicken roasted for an hour with butter and herbs. Tomatoes simmered with garlic and basil until silken. A peanut butter and jelly sandwich. All are simple to prepare, relatively hard to screw-up, and completely tasty.
The breakfast taco at Five Points Grocery in Saratoga fits into this category. It might not look like much, but its simplicity and utility make it a delicious grab-and-go option. Four ingredients -- five, if you include butter -- are all it takes to make this little jewel shine.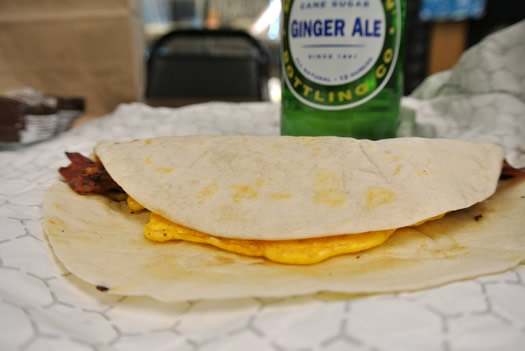 If you were to roll up this breakfast taco really tight, the result would be no bigger or thicker that a Churchill cigar. But you can't shake a stogie at the taste and satisfaction that comes from it. A warmed flour tortilla forms the exterior base for an over-hard egg (complete with crackle-thin, golden edges), melty American cheese, and bacon that maintains a heavy smoke note to it, even though it's only being cooked on a modest flat-top range.
None of those things on their own seem to be that extraordinary, but together, and then left to steam in a foil wrapper until consumed, they make something so perfect it's hard to argue against it.
Each breakfast taco is cooked to order and costs $2. Calling it a "taco" is a pretty liberal use of that word. It comes in a flour tortilla, and that's about the only taco-y thing it has going for it. But it's actually easier to eat than, say, a breakfast sandwich, or any other kind of sandwich for that matter. And that's part of what makes it so good.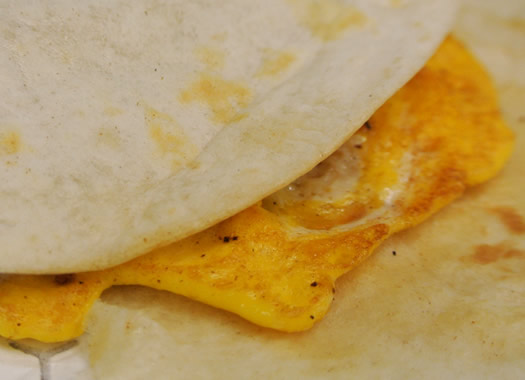 The addition of seasonal vegetables (mmm... sliver-thin radishes) or maybe some sort of homemade garnish, like a quick salsa or spicy schmear, would help to add a bit more flavor to the taco, but then it sort of loses its inherent value. It is simple, easy, quick, portable. Perfect for strolling to the race track, which is a mere stone's throw away, with a Daily Racing Form in one hand, and a breakfast taco in the other, perhaps juggled with a cup of coffee to go.
The grocery
Nestled on the intersections of Lincoln Avenue, Park Place, Clark Street, and Jefferson Street, Five Points Grocery kind of feels like a secret only the locals are attuned to. It's not on a common traffic route, and the shop looks like little more than a corner bodega to buy a case of Genny Light, a local paper, and a lotto ticket. If not for the umbrella-shaded seating area outside, one would probably never know food was actually served inside.
The clientele contributes to the feeling of the place. A few college kids back from their first year at school order subs to-go, though end up eating them while talking with the staff. An off-season track worker grabs a quick refreshment before heading back to work the horses.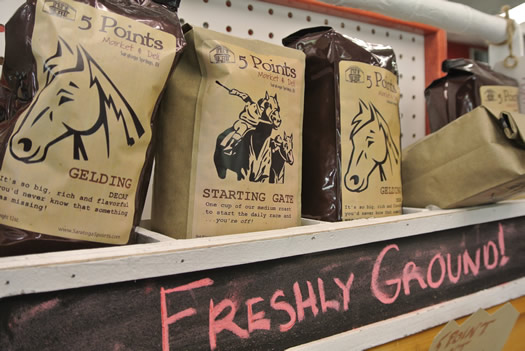 Surprisingly, there are quite a few notable local products available at Five Points Grocery tucked in among the bags of Ruffles potato chips and packs of chewing gum. On the day I was there, there were three varieties of Adirondack Creamery ice cream in the freezer case, two refrigerated shelves dedicated just to Battenkill Creamery milk products, Willow Marsh Farm cheese, and a nice variety of local beers (one thing of note: Saranac sixteen ounce cans). Five Points Grocery also roasts its turkey in-house, and the aroma sweeps across your nose as soon as you walk into the store.
Five Points Grocery has its own locally-roasted coffee blends, by the way, with horse-themed titles like "Starting Gate" and "Gelding."
Breakfast in Saratoga Springs
The lack of good breakfast options in Saratoga befuddles me. A few have popped up in town (Park Side Eatery, Sweet Mimi's), and of course, Mrs. London's isn't going anywhere. But try getting a quick breakfast at Mrs. London's -- go ahead, I triple-dog dare you. It isn't happening.
If you plan on going to The Track or meandering through the Spa City this summer, park off South Broadway somewhere near Five Points Grocery (there's lots of parking, I promise), and stop in for a breakfast taco and a friendly smile to start your day. It's small but filling, and it's cheap, so you can take the few extra dollars you would have spent on a more popular breakfast and better your chances of winning that two-dollar trifecta.
Five Points Grocery serves breakfast all day. My personal philosophy is that breakfast food can solve an entire host of life's problems, so if you end up not making out so well at the track, save at least two bills and change to assuage your woes with a breakfast taco.
Deanna Fox writes about many things, mostly about food. More can be found on her website, Twitter, or Instagram.
Find It
Five Points Grocery
42 Park Place
Saratoga Springs, 12866
Say Something!
We'd really like you to take part in the conversation here at All Over Albany. But we do have a few rules here. Don't worry, they're easy. The first: be kind. The second: treat everyone else with the same respect you'd like to see in return. Cool? Great, post away. Comments are moderated so it might take a little while for your comment to show up. Thanks for being patient.