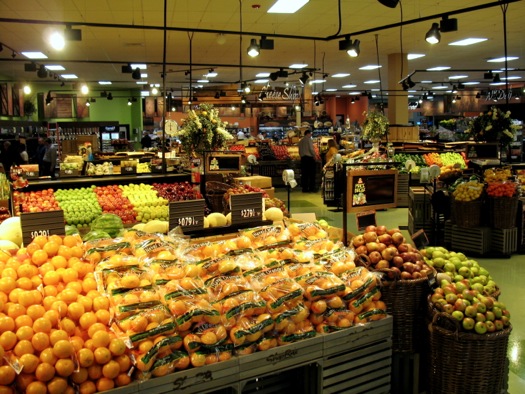 By Alison Bates
Urban planning and development often prompt a lot of discussion here at AOA, so we thought it'd be interesting to have an actual urban planner look more closely at some of the topics that bubble up. Meet Alison Bates, who takes up the issue of a downtown Albany supermarket today.
As the discussion of downtown Albany's redevelopment progresses, the call for a neighborhood supermarket has become central to the conversation. A place close at hand to get good food if you live or work downtown, a way to avoid driving to a strip mall each week to do your grocery shopping -- many of us would like this.
Not only would it be a convenience, but it would speak loudly about downtown Albany. Downtown grocery stores are an important piece of a city's redevelopment. They're a classic urban amenity that sends a message that your downtown is doing well, and that breathing new life into your city is not only possible, it's already happening.
So what would it take to make this a reality? There are some sizable economic, political, and logistical challenges. But there is hope.
Let's look at some of the economics -- because urban planning usually comes back to the numbers (and because everyone secretly enjoys econometrics) -- and some different ways of thinking about the situation.
The economics
The truth is that right now a regional or national supermarket is not going to see much reason to expand into downtown Albany.
Most major supermarkets expect to generate about $15 million per location, per year in sales1, and the average household spends about $4,000 per year on groceries2. Some simple division shows that 3,750 households would need to do all of their shopping at this store to reach $15 million.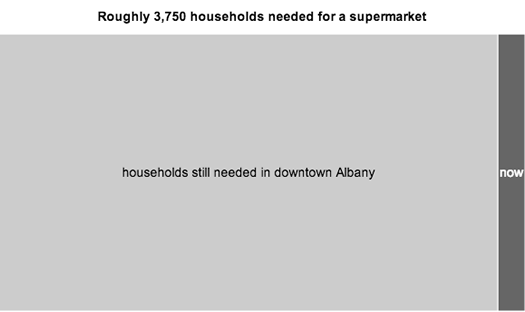 Right now, there are about 200 residential units in downtown Albany, with a 97 percent occupancy rate. Even if we assume that all downtown renters did 100 percent of their shopping at the new store, that would still only account for 5 percent of what the store would need in sales. Downtown would be still be 95 percent short.
So any viable grocery store would need to entice many non-resident state/downtown workers to spend their lunchtime and grocery dollars here too -- and lots of them. For a sense of how many: The additional $14 million in store revenue could be captured if 3,500 non-residents changed their shopping habits, and began doing 100 percent of the grocery shopping for their household here.
But enticing non-residents brings its own complications. A grocery store would need to compete with local sandwich shops and restaurants for the at-work crowd by selling quality prepared foods for breakfasts and lunches. However, these offerings increase costs for the supermarket because prepared foods have a one/two-day shelf life versus more "stable" items. Anything not sold within that window becomes trash. Dedicating space to items with a 24-48 hour window in which to sell before replacements must be purchased makes achieving the necessary profit margins -- which are already tight in the grocery business -- much more onerous for a store.
So, unless the numbers change, chains such as Hannaford or Price Chopper are not likely to set up a full grocery store in downtown Albany, unless they are feeling philanthropic. It's not an ideal situation right now -- but there are other options.
Other possibilities
One solution can, and should be, to think smaller. This is not to be mistaken as "lower your expectations." Never. Rather it's about picturing a grocery store that fits well with downtown. The area is not in the position right now to open a superstore, but what about a small corner market, or a co-op? What about an entirely new financing partnership model to make something happen?
Habitat for Humanity Capital District and a large grocery retailer are currently in the midst of negotiating a cooperative grocery store arrangement for Sheridan Hollow. Think franchise model -- without the franchise fee.
As Habitat executive director Mike Jacobson enthusiastically told me of the model they're pursing: "Whoever returns to the urban market with the right model will inherit the earth."
If the plan comes together, it would work something like this: Habitat and the supermarket company would co-create a non-profit -- or a benefit corporation (a business that operates with a social purpose). The supermarket company would then design and stock the store (selling the inventory at a mark-up to the non-profit/benefit corporation) and train the staff. The store would be run by a board of directors from the community, and all staff would be local community members.
This arrangement is a low-equity-stake concept for grocery, with community members handling the operation of the store while being able to draw on the existing expertise of the grocery retailer. And it could be a win, both for Habitat's multi-use development there and the Sheridan Hollow neighborhood as a whole. As Habitat executive director Mike Jacobson enthusiastically told me of the model they're pursing: "Whoever returns to the urban market with the right model will inherit the earth."
This model is based on the unique situation of the Sheridan Hollow community, its recent redevelopment, and its undeniable potential. All of the special realities of time and place went into creating this model. And that's the sort of creative restructuring that downtown Albany needs.
An example elsewhere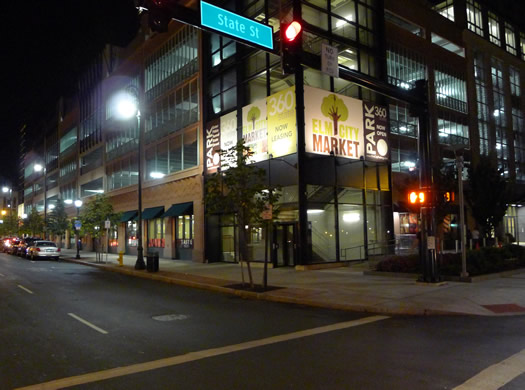 The Elm City Market in New Haven, Connecticut. / photo: Amy Christensen
Let's look at what another city -- and one not unlike Albany demographically -- did to bring a grocery store downtown: New Haven, Connecticut, which is part Yale University college town, part low-income city.
A private developer wanted a grocery store to anchor a new residential redevelopment project3. The developer invited national and regional stores to occupy/invest in the space. All of them rejected the site, because the math did not support a grocery store downtown. So a co-op was formed -- the Elm City Market -- and after three years and more than 2,200 members, it's doing very well.
Co-ops have become the foot-in-the-door model for many mid-sized American cities which suffer from disinvestment and suburbanization -- like Albany.
What's next? Maybe something in the ESP?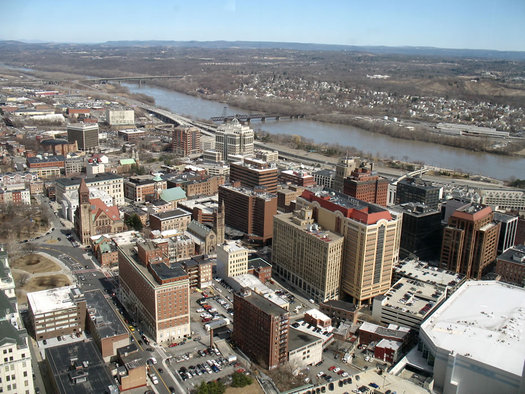 What's the right spot down there?
Speculation about the idea of scaled-down ShopRite in the Empire State Plaza concourse has been circulating recently. As someone who works in the plaza, and sometimes works hours that prevent a trip to an outside-world grocery store during busy season, this would be wonderful. Still, it probably will not get us where many people would like to be. This would probably be a store for the concourse connected to shop during the work week. In order to be of benefit to the greater downtown Albany neighborhood, the store would need to have weekend hours4, and would need to be easily accessible from the street, which could be a challenge for a concourse location.
The desire for a major retailer to move into one of the many vacant downtown Albany buildings and open a supermarket is understandable, but it's not realistic. Right now. We can either keep being frustrated by the reality, or we can start to have a real conversation about what can be done.
There will be significant challenges along the way. Any grocery store that invests downtown, large or small, will need to contend with narrow streets and large delivery trucks, with early morning deliveries and nearby sleeping residents, with Albany's existing tax structure, with the ongoing parking issue, and with the surprises you find along the way when rehabbing a 100-year-old building.
But it is possible if we start to think about our unique place, and come up with a unique model that will fit.
Alison Bates is an urban planner and city of Albany planning board member. She works for the New York State Senate doing fiscal analysis of infrastructure initiatives. She writes here in a personal rather than professional capacity.
____
1. Understanding the Grocery Industry. Financing Healthy Food Options Handbook: Implementation Handbook. By: The Reinvestment Fund. September 30, 2011.
2. Bureau of Labor Statistics. Economic News Release - Consumer Expenditures 2012.
3. There's a rumor that the city of New Haven told the developer something to the effect of, "We want a grocery store on the ground level of this building, and things will be a lot easier for you if you do this." But it's just a rumor. In any case, the developer was looking for a grocery tenant for the ground floor, below the new apartments.
4. I would be surprised if ShopRite planned to be open on weekends, but it sounds like nothing is set in stone with this possible store.
____
Earlier on AOA:
+ About retail in downtown Albany, and other local downtowns
+ Thinking about residential development in downtown Albany
Hi there. Comments have been closed for this item. Still have something to say? Contact us.