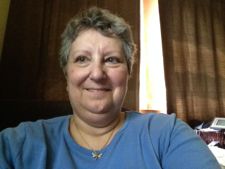 It's My Exit Monday on WEXT -- The day when, for one hour, a Capital Region listener shares music from their collection with the rest of us. This week, Diane Ward keeps it (mostly) local, with 518 musicians from a variety of genres.
More about Diane and some of the tunes on her playlist, after the jump.
Who?
I'm Diane Warde from Niskayuna. I am a retired foreign language teacher who loves learning new languages. I am currently bilingual, but know a smattering of five other languages. I love to travel and learn about other cultures.
What kind of music do you like?
My musical tastes are eclectic, ranging from classical to alternative to rock.
My Exit is about relatively unknown artists, some from the local 518. I love the fact that WEXT gives air play to local artists who deserve to be heard.
A few songs from Diane's My Exit:
"Electric Child" - Anna Rose
I was fortunate to see Anna Rose when she opened for Ed Kowalczyk. She sings with emotion and really rocks out! Her songs are well thought out with great lyrics.
"Angels and Sailors" - Chris Carey
Chris is from the local 518 and is a country/folk artist. He has a beautifully moving voice, and is an accomplished musician.
"Aquafin" - Tony Levin
Tony is best known for his work with Peter Gabriel, King Crimson, and the Krimson Projeckt, but I am well aware that there are still too many people who don't know what an accomplished musician he is. His style is progressive rock, with great, melodic tunes.
"Mother/Child" -- Altamira
This local 518 alternative band has a great singer and songs with interesting lyrics. Their style is a little like The Mars Volta.
"Mrs. Laughinghorse" -- Maria Zementauski
Maria is a classically trained guitarist who performs both traditional flamenco pieces and her own compositions. I love the modern twist she brings to the genre.
I also have tunes by Thomas Wesley Stern, JT Makoviecki, and more. Never heard of them? Well here's your chance. Tune in to check them out!
You can hear Diane's My Exit show Monday night at 11 pm on 97.7, Saturday at 8 am, or at exit977.org.
Here's how to schedule your own My Exit show on WEXT.