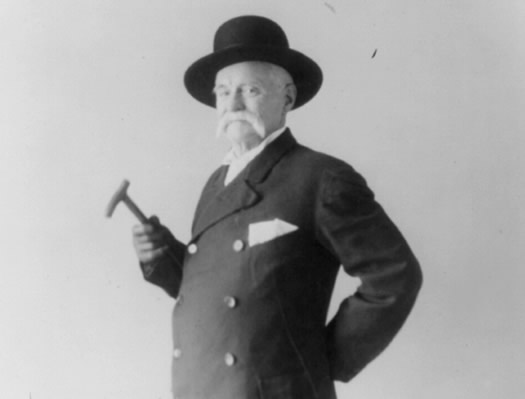 Tim emails us this morning: "I was having pint with my brother last night at Ryan's Wake and he told me about how pedestrianism was once a huge spectator sport in America. It was basically sitting around and watching people power-walk in an arena."
Not only is this true, but there was one of these pedestrian events -- specifically, a 100 mile walking race -- in Troy, featuring the sport's greatest star.

The sport of pedestrianism rose to prominence in the United States in part because of a bet by Edward Payson Weston in 1860. He had wagered with a a friend that if Abraham Lincoln won the presidency, he'd walk from Boston to Washington, DC. Lincoln won, Weston lost, and he made the walk -- and got a lot of attention for the feat. After the Civil War, Weston became a star of the growing sport.
From an article about Weston at Grantland by Brian Phillips, which is well worth reading in full:
Pedestrianism took two forms, each of which Weston helped to popularize. There was track walking, which usually took place at a skating rink or inside a large exhibition hall. Sometimes a competitor walked around the track alone, racing the clock; sometimes he faced one or more competitors, who would agree to walk for a certain period of time, or to a certain distance, or until one of them was forced to give up. (Weston sometimes competed solo against pairs of other walkers who were allowed to tag in and out of the race.) A crowd, which could be many thousands strong for the larger events, would buy tickets, consume refreshments -- at one race in Madison Square Garden in 1879, organizers sold 5,000 oysters, 6,000 pickled sheep's tongues, and 200,000 glasses of lager -- and place bets. Attendees came from all classes of society, though there seems to have been a steady tension between middle-class fans looking for an edifying sporting experience and the constellation of gamblers, pickpockets, and prostitutes who turned out for a day of easy action. ...
The other form of pedestrianism was outdoor destination walking, of the sort that initially made Edward Weston famous. In 1867, he became a household name by walking from Portland, Maine, to Chicago in 26 days, 1,200 miles along the post road. Weston was greeted by massive crowds everywhere he went; newspaper writers around the country worked themselves into a froth debating the merits of the undertaking. He dined along the way with Grover Cleveland and Millard Fillmore. "Fake Westons" turned up in several cities, sometimes generating huge crowds of their own before the ruse was discovered. On this walk, Weston also found himself at the center of a national controversy due to his supposed involvement with the gangster and Tammany Hall politician [AOA adds: and Troy resident] John Morrissey. A side bet on Weston's walk to Chicago meant that Weston stood to win extra money by walking 100 miles in 24 hours. He failed at this task several times, and wild rumors circulated to the effect that he was being paid off by Morrissey to throw the bet.
As mentioned in the clip above, these pedestrian matches could apparently be quite the colorful event. And the competitors themselves added intrigue to the events with scandals involving betting, and performance enhancement attempts that included chewing of coca leaves and drinking champagne by the bottle.
The Pedestrian Match at Troy
Right, so the race in Troy: On September 8, 1868 there was a pedestrian match at Rensselaer Park, an amusement park in Lansingburgh (it wasn't part of Troy, yet). The competitors:
+ The famous Edward Payson Weston
+ Alex Adams of Cortland
+ C.N. Payne of Albany
+ Thomas Bendou of Troy
+ John Haydock of New York
+ R.H. Ferguson of Troy
From a New York Times article about the match:
The great walking tournament on the Rensselaer Park Course, in this city, ended this afternoon at about 4 o'clock, and was won by Haydock, an English pedestrian, who walked 100 miles in twenty-two hours and fifty-four seconds. Payne, of Albany, walked 100 miles in twenty-three hours and thirty-seven second. Bendon, a member of the Troy Police, gave out on the eighty-seventh mile, winning third prize. He walked fifty miles without a rest, and entered the contest without any training. Haydock walked an extra mile after the completing the 100 miles. This if the first authenticated instance on record of the accomplishment of this wonderful feat.
John Haydock won $300 for walking the most number of miles, and another $100 for walking 100 miles in 24 hours, according to an account in Joel Munsell's Collections on the history of Albany. Payne won $150, and Bendon $50. There's no mention of how Weston fared.
The end of the walk
Weston just kept walking. And walking. And walking. And he would appear in the Capital Region again, at least a few times. He walked from New York City to Albany in 1893. And in 1922 -- at the age of 84 -- he made his way through the Albany-Schenectady-Troy area while on a walk from Buffalo to New York City. The Schenectady Gazette article about that trip mentions that Weston had friends in Troy and "In his walks, he always stops in Troy."
Oh, and in between he walked across the United States -- twice. He completed the second trip -- walking from west to east -- while in his 70s.
Weston was hit by a taxi cab in New York City in 1927 and never walked again. He died two years later.
(Thanks, Tim)
photo via the Library of Congress
Say Something!
We'd really like you to take part in the conversation here at All Over Albany. But we do have a few rules here. Don't worry, they're easy. The first: be kind. The second: treat everyone else with the same respect you'd like to see in return. Cool? Great, post away. Comments are moderated so it might take a little while for your comment to show up. Thanks for being patient.