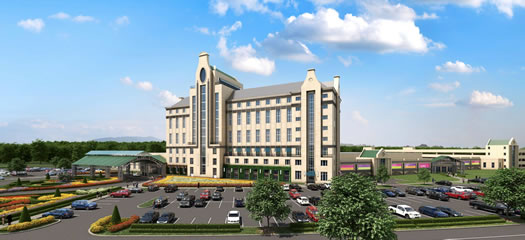 Casino news:
In Montgomery County the Florida town board voted unanimously Monday night to support the proposed casino project there. The casino would also partly be in the city of Amsterdam -- the economy there is struggling and people are "taxed up the ying-yang," and there appears to be widespread, if cautious, support for the casino proposal. [Daily Gazette] [TU]
+ The proposed East Greenbush casino project now has an official name: Capital View Casino & Resort. And backers released a rendering of the proposed facility, a design said to "reflect the architectural vision of early European settlers, who dreamed of a New Netherland." [Biz Review] [TU]
An addendum to the Albany convention center project: Albany County is expected to borrow as much as $15 million for improvements to the TU Center associated with the project. (The TU Center and Albany Capital Center will be connected by a walkway.) [TU]
The body of the woman missing after her raft overturned in the Kayaderosseras Creek in Milton on Friday was found Monday in Malta, about four miles from she entered the water. [Saratogian] [Daily Gazette]
The man accused of kidnapping his former girlfriend, forcing her to dig a grave in the woods, and threatening to kill her last year near Saratoga Lake has been found guilty on multiple charges. Ryan Place of Milton faces 10-25 years in prison. [Daily Gazette] [Saratoga County DA]

A Schenectady man is facing assault, unlawful imprisonment, and strangulation charges after he allegedly broke a woman's skull with a baseball bat. [Daily Gazette]
State Police say a Greenfield Center man rammed his pickup truck into another truck while troopers questioned witnesses related to an earlier alleged domestic incident. From the release: "The Trooper and 4 other individuals, including a 13 year old child, had to take evasive action in order to avoid being struck by the truck that was pushed forward." [NYSP]
Albany police say two people have charged with DWI after an motorcycle-SUV collision in the Second Ave neighborhood (map) early Sunday morning in which both drivers were allegedly driving drunk. [APD FB]
An investment firm and its Loudonville founder, one of the Capital Region's wealthiest people, have agreed to pay $2.2 million as part of a settlement with the Securities and Exchange Commission over accusations of not disclosing conflicts of interest in stock trades and retaliation against a whistleblower employee. [TU] [Daily Gazette]
Rob Astorino proposed a 10-point ethics reform plan for state government, including term limits. In the Siena poll out Monday, Astorino was trailing Andrew Cuomo in the gubernatorial race 57-21. [TU] [Siena SRI]
Zephyr Teachout -- who challenged Andrew Cuomo for the Working Families party line -- was in Albany Monday to talk about her plans to primary Cuomo for the Democratic line. [TU]
The Cuomo admin is floating a plan for the Tappan Zee Bridge replacement project to borrow about $500 million from a state fund usually dedicated to upgrading sewer and drinking water systems. [TU]
Why is Saratoga Springs mayor Joanne Yepsen proposing to increase the size of the City Center board -- an proposal that was apparently a surprise to convention center's president? [Saratogian] [Daily Gazette]
The chair of SCCC's board of trustees is stepping down. [Daily Gazette]
UAlbany athletic director Lee McElroy is retiring. [TU]
Schenectady's Central Park is getting swan boats. [Daily Gazette]
Say Something!
We'd really like you to take part in the conversation here at All Over Albany. But we do have a few rules here. Don't worry, they're easy. The first: be kind. The second: treat everyone else with the same respect you'd like to see in return. Cool? Great, post away. Comments are moderated so it might take a little while for your comment to show up. Thanks for being patient.