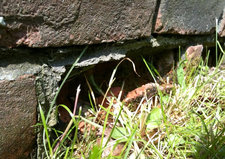 Carl asks via Twitter:
Hey @alloveralbany, know you just did an ask, but can you ask about [experience] with radon mitigators? #askingforafriend #justincase
Quick background: Radon is a radioactive gas that's released from rock and soil, and in some cases, it can get trapped by a house, especially the basement. Sometimes the levels are high enough that it's a health threat (radon exposure can cause lung cancer). Here's an EPA page with radon info.
There are test kits for radon, and you can get one for under $10 from New York State. In cases where radon might be collecting at dangerous levels in a house, modifications can be made to mitigate the problem. Here's a state Department of Health checklist for questions to ask contractors.
So, all that said, anyone have a suggestion or experience to share with Carl? Please share!
Hi there. Comments have been closed for this item. Still have something to say? Contact us.