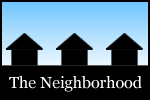 Among the topics in this most recent spin around the Capital Region's online neighborhood: Father's Day, singing high school students, the weirdest dental experience, Mountain Jam, Big Slide, Albany Comic Con, brunch at the Ruck, Goodnight Noodle, wine, olives, and Whole Foods...
Rob celebrated his boys on Father's Day.
Amy on being cradled by her daughter and other singing students at Albany High School.
Albaniana had "the weirdest dental experience ever."
Silvia recapped this year's Mountain Jam.
Jen hiked Big Slide and the Brothers in the Adirondacks. Jona dodged the bugs on Snowy Mountain.
Wayfarer Christine ran a 5k in Syracuse.
Chuck passed along Wolverine at the Albany Comic Con.
Jerry had brunch at The Ruck in Troy. (And an unfortunate experience at Home Depot.)
The Chopsticks Optional crew tried Goodnight Noodle in Ballston Spa.
Ashley recapped a wine dinner at the Wishing Well.
Zena organized an olive tasting.
And Whole Foods observations from: Steve, Jennifer (via Daniel), and Courtney.