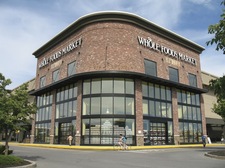 A little bit of number gawking*: Whole Foods announced last week that it would be donating $11,303 to Capital District Community Gardens based on opening day sales at its new store at Colonie Center. The donation was 5 percent of sales from that day.
So, that donation figure points to Whole Foods doing something like $225,000 in sales that day. That seems like a pretty good first day.
For some perspective, Whole Foods stores averaged $719,000 in sales per week during the first quarter of this year, according to the company.
Of course, the opening day for a location is probably always going to be an outlier. But the (guessed) sales total points to the level of interest and shopping visits the opening was able to generate.
*We don't even know if number gawking is possible. Number noodling?
Hi there. Comments have been closed for this item. Still have something to say? Contact us.