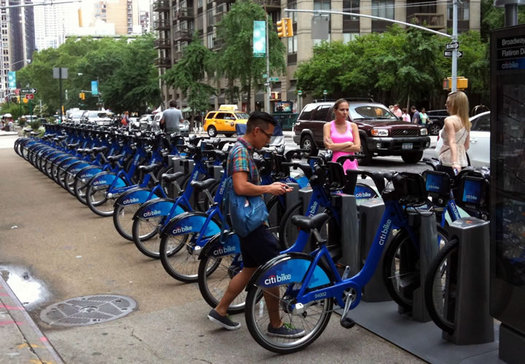 A test run of a bike sharing program is planned for Albany, Saratoga Springs, Schenectady, and Troy later this summer. From the Capital Moves project:
There will be 25 bicycles available for use between 10am and 8pm at one or more locations in each City. Locations are planned to include Jay Street at State Street in Schenectady, Riverfront Park in Troy, Broadway at Division Street in Saratoga Springs, and Washington Park in Albany. Once registered, participants will receive an ID number allowing them to use the bikes for the rest of the month. There will be no cost to participants, although a credit card will need to be on file as security for the bikes. In addition, participants will need to sign a waiver and provide positive identification.
Over the Gazette, Justin Mason has an article that includes a bunch of details about the program. [Daily Gazette]
The program will run from July 10-August 15. Dates for each city are after the jump.
It'll be interesting to see how this pilot goes. Bike sharing is one of those things that sounds like it could useful/fun, but the details also seem hard. One of the most famous bike share programs is the Citi Bike system in New York City, which turned out to be very popular during its first year -- and also faced significant financial problems. And the system is apparently still trying to shake out some of its operational problems. [NYT] [NYDN]
Dates
Schenectady: July 10 - July 16
Troy: July 20 - July 26
Saratoga Springs: July 30 - August 5
Albany: August 9 - August 15
Hi there. Comments have been closed for this item. Still have something to say? Contact us.