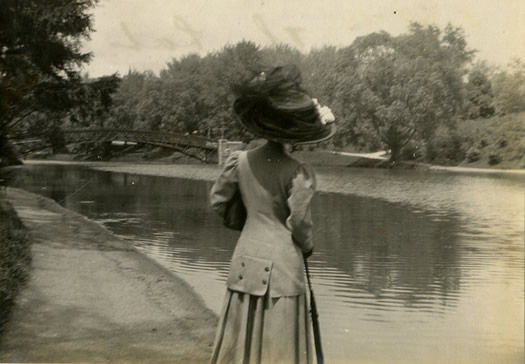 Think of it as today's moment of summer -- 104 years ago: "Annie Ray Andrews modeling hat at Washington Park in Albany, New York."
The photo is from a collection at the Florida Memory project related to Koreshan Unity, a "communal utopia" group that eventually found its way to Florida after stops in New York and Chicago. Its leader, reportedly prompted by a vision involving a beautiful woman, had some rather unusual views about the world.
From a biographical note about Andrews on the photo: "Daughter of Dr. A.W.K. & Virginia Andrews. Born May 6, 1879 in Binghamton, New York. She played in the Koreshan Unity orchestra. Died 1928 in Philadelphia, Pennsylvania."
And a handwritten note on the back of the photo: "This is the hat."
[via The Commons on Flickr]
Hi there. Comments have been closed for this item. Still have something to say? Contact us.