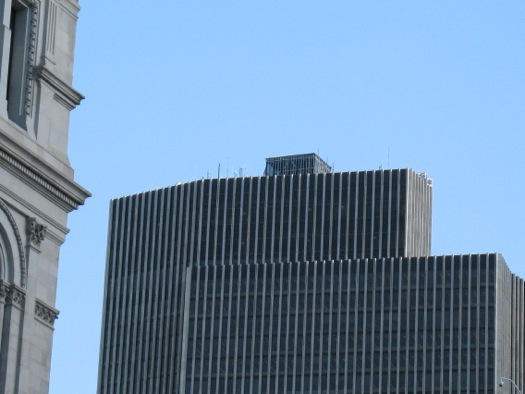 Updated
AR emailed us to ask:
[W]hat the heck are they doing on the roof of the Corning Tower?
AR was referring to the box-like structure that's been built atop the tower. It's noticeable from a bunch of different angles.
So we asked. From Heather Groll, a spokesperson for the state Office of General Services, which operates the Empire State Plaza:
The 25 foot high structure being built on top of the Corning Tower is an enclosure that will protect the equipment on the roof that we use to conduct building maintenance that includes repairs to the marble, window replacement, and washing. When it's finished the outside will be very similar in color to the building.
Groll said via email the structure is a permanent addition.
Here's a pic with a wider perspective, from Delaware Ave.
NYS OGS's At the Plaza series advertises on AOA.
Hi there. Comments have been closed for this item. Still have something to say? Contact us.