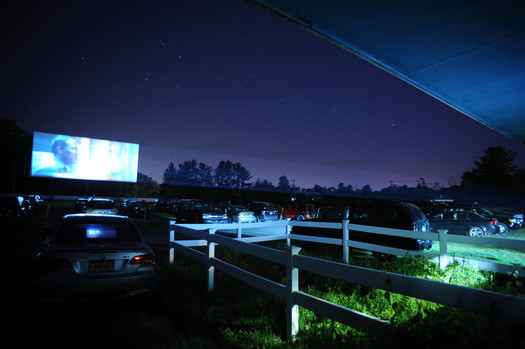 The drive-in movie theater might seem like something from the past, the setting for memories about teenage dates during the 1950s. And while there were once thousands of the theaters, there are now just a few hundred across the nation.
But this area is lucky that it still has multiple drive-ins. And they can be a fun night out -- a thrifty, retro experience for a couple or a whole family. Even dogs are now allowed at many theaters.
Here's a quick look at some drive-ins around the Capital Region...
Quick history
The first drive-in theater was created in 1933 in New Jersey by Richard Hollingshead when he mounted a 1928 Kodak projector on the hood of his car, pinned a make-shift screen to some trees, and placed a radio behind the screen for sound. By the 1950s, at the drive-in's peak, there were more than 4,000 of the theaters -- now there are fewer than 400. And many of the drive-ins still in operation are struggling to address the costly conversion to digital projection. [Smithsonian] [LAT] [The Awl]
Considering how few drive-ins still exist across the nation, the Capital Region has a surprisingly large number of the theaters. Below is a list of some drive-ins located within a reasonable driving distance from the Albany area.
It's best to arrive when the gates open to give yourself time to settle into your parking space, play some Frisbee, walk around and talk to your neighbors, and get some food. Bring blankets, pillows, an appetite (all theaters serve more than just popcorn) and some bug spray and allow yourself to become part of this retro American experience.
Drive-ins
Hathaway's Drive In Theatre
4762 New York 67
North Hoosick, NY 12057
Built in 1948, this is one of the two oldest drive-ins in New York State. The projectors were converted to digital projection this spring (they sold the old-style speakers to help pay for the digital conversion). The theater is built on a large beautiful field on a hill so all cars get a good angle of the screen. The current owner has been in charge since 2009. The food is all cooked to order and they are especially known for their hand cut French fries.
Price: adults $9, kids $5 (except on special "carload" nights, see below).
Monday: Bluray retro night - $5 (older movie chosen a week before, check the website for movie)
Tuesday: carload night - $10 per carload with a limit of four per vehicle, $3 for each additional person. Double feature (i.e. two movies back to back).
Wednesday: single feature - $5 per person
Thursday: single feature - $5 per person
Friday/Saturday/Sunday - regular pricing (i.e. $9 adults/$5 kids, includes double feature)
Hollywood Drive-In Theatre
9270 Route 66
Averill Park, NY 12018
The same family has run this theater since 1952. As owner Frank Fisher told AOA a few years back: "I love it! I've been here since I was knee-high to a grasshopper. It's just fun. I was running the projector when I was twelve. When you do that it's just part of you. People come here and have fun. They laugh. I really enjoy seeing the families together."
The Hollywood can accommodate up to 400 cars. It installed a digital projector in 2012.
Price: $9 adults, $5 kids.
Jericho Drive-In Theatre
21 Jericho Road
Glenmont, NY 12077
The theater was originally opened in 1967. The present owners bought the theater in 1995 from the original owners. This is their 20th season running the drive-in and both owners (husband and wife duo) grew up in this area. In 2007 the theater added a freestanding ice cream stand that serves the community as well as the drive-in.
The Jericho hasn't made the transition to digital, yet. The owners are hoping to raise $75,000 by the end of this season to help fund the switch. (There's a donation button on their website.)
Open every night of the week. Sunday is doggie night, which entitles patrons to a free vanilla ice cream with food purchase if one brings a dog. Gates open approximately 90 minutes prior to first show on Friday and Saturday, and approximately 60 minutes prior to first show on Sunday-Thursday.
Price: $9 adults, $4.00 kids.
Malta Drive-In Theatre
2785 U.S. 9
Ballston Spa, NY 12020
When the theater opened in 1949 it was one of the first drive-in theaters in New York. The Malta has two screens -- with digital projection -- so it can show two different sets of movies each night.
Price: $9 adults, $4.00 kids.
Hi there. Comments have been closed for this item. Still have something to say? Contact us.