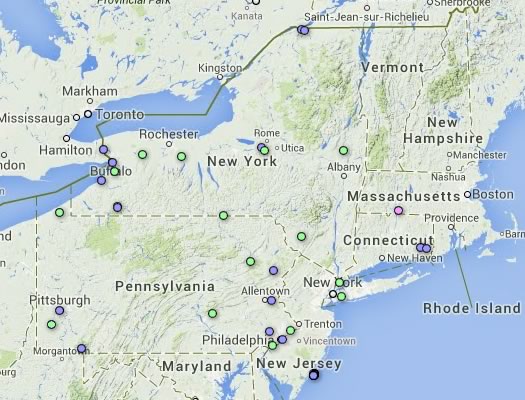 Hey, it's a new map quiz.
Can you guess the pattern represented by the dots on the map above?
Answer's after the jump.
The answer is...
(scroll down a bit)
















Casinos in states neighboring New York.
Here's a clickable version of the map:
A few notes
+ The casino in Springfield is a proposed $800 MGM facility. The casino process in Massachusetts is up in the air after the state's highest court ruled a referendum over whether to repeal casinos in the state could appear on the November ballot. [Boston Globe]
+ The map includes racinos -- they're marked in green. In New York, racinos currently are only allowed allowed to have video lottery terminals, which are like slot machines.
+ The map does not include the Cayuga Nation's LakeSide facility in Union Springs, New York, which is temporarily closed according to its website.
+ Casino lists are via Wikipedia.
Why this map now?
Monday was the deadline for applications for the four casinos licenses to be awarded in upstate New York. One of the things we're looking forward to hearing about from the applications: Where customers for these casinos -- especially the Capital Region casino -- will come from, and what portion of those people will be projected to come from outside the region.
Just based on surrounding already-existing casinos, and the projects that will be approved for Hudson Valley and the Southern Tier, we're a bit skeptical that masses of people from outside the region will pass up these other casinos to gamble at a Capital Region casino -- especially since there's been talk recently of a gambling glut around the nation. But maybe there's a good case to be made for an influx of customers. It'll be interesting to see what the applications project.
Earlier on AOA: The casino wheel keeps spinning
Hi there. Comments have been closed for this item. Still have something to say? Contact us.