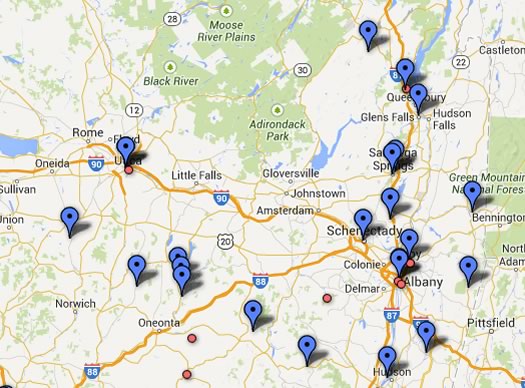 The United States had more than 3,000 active breweries during the month of June, according to figures out from the Brewers Association this week. According to its research, it's the first time the nation has had that many breweries since the 1870s.
New York State has 252 active, or planned, breweries, according to a check today of listings maintained by the Brewers Association. In 2013, BA figures the Empire State had 165 breweries -- up from 75 in 2011. That ranked New York 26th in the nation for breweries per capita. (Vermont was ranked #2.)
We've rolled a map from the Brewers Association list of active and planned brewery projects in New York State -- it's after the jump.
The map is above in large format -- click or scroll all the way up.
So, are we headed for some sort of peak brewery? Here's one take, from a post by the Brewers Association's chief economist, Bart Watson:
What does 3,000 breweries mean? For one, it represents a return to the localization of beer production, with almost 99% of the 3,040 breweries being small and independent. The majority of Americans live within 10 miles of a local brewery, and with almost 2,000 planning breweries in the BA database, that percentage is only going to climb in the coming years.
Secondly, it means that competition continues to increase, and that brewers will need to further differentiate and focus on quality if they are going to succeed in a crowded marketplace. While a national brewery number is fairly irrelevant without understanding local marketplaces, 3,040 breweries could not happen without increased competition in many localities.
What it does not mean is that we've reached a saturation point. Most of the new entrants continue to be small and local, operating in neighborhoods or towns. What it means to be a brewery is shifting, back toward an era when breweries were largely local, and operated as a neighborhood bar or restaurant. How many neighborhoods in the country could still stand to gain from a high-quality brewpub or micro taproom? While a return to the per capita ratio of 1873 seems unlikely (that would mean more than 30,000 breweries), the resurgence of American brewing is far from over.
We asked the "peak brewery" question recently to Kevin Mullen of the recently-opened Rare Form Brewing in Troy. His take:
No, I really don't think so. I think the craft beer movement continues to grow. A craft beer drinker goes to a bar they don't order the same beer twice -- you know, they order one beer and then want to see what's going on next with another brewery. They don't hold consistent to just one brewery and that's the only brewery they drink, like it used to be in the past. Everyone wants to see more growth in what's happening with it.
According to the BA list for New York (see caveats with the map), there are roughly 100 breweries listed as currently in some sort of planning.
Hi there. Comments have been closed for this item. Still have something to say? Contact us.