GE CEO Jeffery Immelt, Andrew Cuomo, Alain Kaloyeros, and a large portion of the Capital Region's state and local reps were at the GE Global Research Center in Niskayuna today for the announcement of a new $500 million consortium that's being touted as both a key part of the next era in electronics and a future generator of thousands of jobs (including "at least 500" in the Capital Region).
The New York Power Electronics Manufacturing Consortium will be anchored by GE and the College of Nanoscale Science and Engineering, and will be backed in part by $135 million in funding from New York State. The consortium will focus on what Kaloyeros called the "next generation of semiconductors," with applications across many different industries.
Here are three things about this announcement -- involving the technology, New York State, and the NanoCollege...
OK, so what is this technology?
Let's start with the name of the consortium: "power electronics" refers to electrical components that switch or convert electricity. So these components are all sorts of devices: TVs, computers, battery chargers -- but they're also used in things like wind turbines and solar systems.
Currently, and like most electronic devices, these components are made using silicon chips. But this consortium is aiming to develop components made out of silicon carbide (a compound of silicon and carbon). Why? Well, silicon carbide components are expected to be more durable and efficient in high power and high temperature applications. So they could be an advancement in applications such as power systems, medical systems, trains, electric vehicles, aerospace.
GE's Immelt touted the tech today as "one of the great innovations of the 21st century." And Mark Little, head of GE's Global Research Center, called it "revolutionary new technology" that GE's researchers have been working on for the last decade. (In an aside, Immelt mentioned the tech could reduce the weight of a Boeing Dreamliner by 1,000 pounds. The lighter an airplane, the less fuel it uses.)
A recently-released market forecast pegged silicon carbide semiconductors to be a $3.2 billion industry by 2020.
As with almost all new technologies, though, the cost of development and commercialization is huge. So this new consortium is a way for players who would otherwise compete with each other -- like GE, GlobalFoundries, IBM, and others -- to share these costs. As part of the consortium, Kaloyeros said today a fabrication line for silicon carbide wafers would be built at the NanoCollege site in Albany.
So, theoretically, New York State's participation is helping the set the stage for further economic development. (And as the TU points out, the state's consortium will be competing with a federal effort that bypassed the New York for North Carolina.)
Fun bonus fact: Moissanite, a type of fake diamond, is a form of silicon carbide.
But we don't really understand it -- ha ha
A frequent theme in the remarks today from the state's leaders -- Andrew Cuomo, Sheldon Silver, Dean Skelos -- was that they don't understand the tech that's involved. And it wasn't just them displaying some lack of understanding of the details -- they outright said they didn't understand it.
"I don't think many people understand what Dr. Kaloyeros is talking about, but they like they way he says it," Cuomo said. "I have no idea what he's talking about, but I believe it's going to work."
Silver said he didn't really understand Kaloyeros when the professor approached the Assemblyman for state funding for a clean room at UAlbany many years ago, and he doesn't understand him now. "To all of us, it sounds like he knows what he's talking about."
And Dean Skelos mentioned that when he first heard about nanotechnology, he thought it was a reference to the old TV show Mork & Mindy: "nanu nanu."
Ha ha. Ha ha.
Here's the thing, though: The state has already put up hundreds of millions of dollars for tech projects. And if the people making the decisions about this funding really don't understand what's being pitched, then they need to find someone to teach them. Because at some point the "Hey, we don't know anything about tech, but we're giving them money anyway" bit stops being cute.
The need to actually understand what's going on is even more important considering the the NanoCollege model, a setup being replicated for the power electronics consortium: the NanoCollege -- the state -- owns the research facility and equipment. Officials have touted this arrangement as a boon to the state because it makes it harder for companies to just pick up the toys and go somewhere else. But to some extent it also makes the state a literal investor in these technologies. And if you don't understand an investment, you shouldn't be throwing your money at it.
Of course, it's not like we should expect Sheldon Silver to be able to suit up and walk people through the intricacies of a clean room operation. But some level of science and tech literacy in our elected officials -- especially when they're putting state money on the line -- shouldn't be too much to ask.
The NanoEmpire grows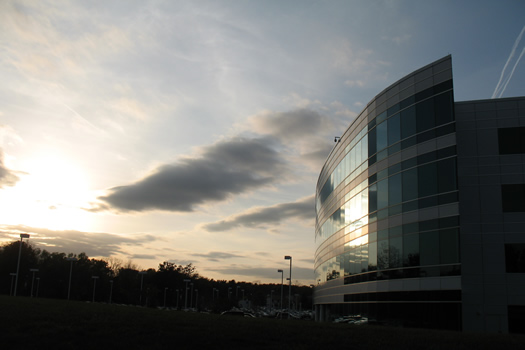 Speaking of things people do -- or don't -- understand: What is the NanoCollege?
Because "college" doesn't really capture what NanoCollege has become. Kaloyeros said today that total public/private investment at the organization is now $25 billion. Thousands of private employees work at the "megaplex" in Albany, yet its enrollment is 301 students. The organization now has facilities across the state. And it merged with SUNY IT.
Today Cuomo described Kaloyeros as a "one-man economic development department for the state of New York." Then he joked (?) that the state should take out a life insurance policy on him.
The growth of the NanoCollege has been amazing. If someone had predicted it 10, 15 years ago, people probably would have said the story was crazy. It could be the future of economic development and higher education. And maybe Kaloyeros has "revolutionized" Upstate New York, as Cuomo said today.
We're just not sure how many people actually understand what NanoCollege is, yet.
Hi there. Comments have been closed for this item. Still have something to say? Contact us.