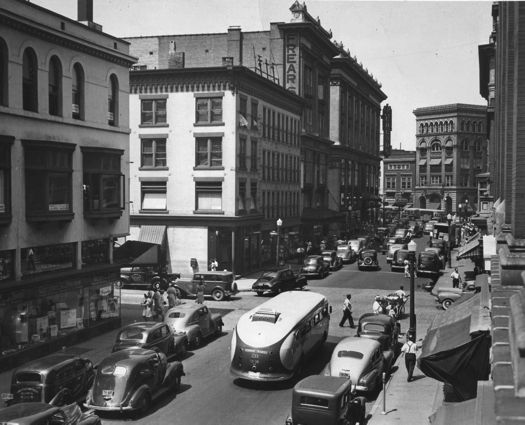 You can get an idea of the history of a place from books and museums, but it takes on a different flavor when you talk about it with someone who has lived there for a long time. Older people can have a different sense of the same place because of the changes they've seen -- and you can learn some pretty interesting things from them.
Back in the early 1940s Nancy Barrett was a teenager living with her father and two older sisters in Lansingburgh. Barrett still lives in Troy today, so she's seen a lot of changes in the city -- and a lot of them she likes. "I think there are people now who are getting things done," she says.
But when you ask Nancy Barrett if there's anything she misses about the old days in Troy, the answer comes quick and sure: Friday nights.
What do you mean by "Friday nights?"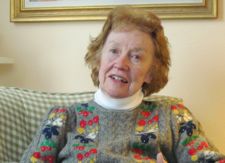 Friday night. Friday nights in Troy -- where the sidewalks were so full of people you walked in the street. Friday night in Troy. It was wonderful for quick grabbing food, every store was lit up like a Christmas tree. And it would be so loaded up with teenagers with their groups of 20 people. That was exciting to be part of. You saw everyone. You'd see everybody walking on the street and say, "Hi, how are ya. Meant to call you, but I will." So it was a real melding of all manner of people and I'm sure the businesses loved it.
And you got there by bus. The 5th Avenue Bus Company in Troy was always coming. You'd see one going this way and the other would be coming the other way. Even if you had a car you took it only when you had money for gas. We had a car, but we had it only to visit my mother's relatives once a month on a Sunday.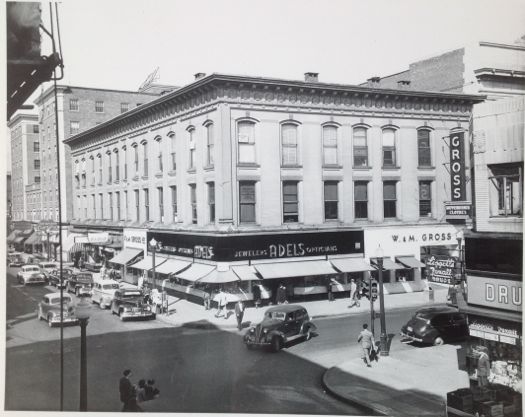 From the Collection of Tom Flynn, Courtesy of Duncan Crary Communications
What were some of the places you'd go?
We had stores! There was Frear's, and Denby's, the Peerless. Denby's was strictly a clothing store. My sister was a buyer for Denby's. And Peerless was the same -- women's dresses. Then there was Lord and Tan. Not Lord and Taylor, Lord and Tan -- talk about getting as close as possible to the name. (laughs) And there were a couple of other women's clothing stores. Then as I remember there was a jeweler. Hills was always there -- a stationery store -- everything that went to RPI came into Troy through Hills.
And you were never alone, you went as a group. You'd meet anyone and everyone on the balcony at Frear's. "Meet me at Frear's balcony." At the bottom of the stairs was the lingerie and when I was a girl I just loved all those lacy, frilly things. The first floor was all open with just counters, and then you went up the balcony. It was a place to meet as much as anything else.

And you would end up in The Puritan, which was a soda place on Second Avenue. Soda and potato chips... all that good foodie stuff (laughs). Kids in Troy came into town and spent money. There wasn't a lot of it, but there were lots of places you could go and eat that were very inexpensive. Of course I didn't have to pay the check so what the hell did I know (laughs).
So what was dating like on those Friday nights?
RPI had all these students in the V12, so you didn't have to wonder where your date was going to come from 'cause there they were (laughs). This town was flooded with guys in uniform. And my father, trying to get rid of these three women in his house, opened his house for Sunday dinner and through some organization at RPI he would get three guys. We would have more guys coming through the house on Sundays! (laughs) Actually that is how my sister Carol met her husband Frank ... they have eleven children.
There was a dance right after Carol and Frank got fixed up -- a very formal dance. So we're up at RPI doing our thing and I couldn't find Carol. All of a sudden these guys are running around RPI looking for somebody. They were looking for me.
Frank, being a big sport from Brooklyn, rented a boat and rowed her out onto the Hudson, and the boat had a hole in it, and the boat went down and Carol could not swim. (Laughing) And I looked and here is Carol in this formal gown. And there she was, like she had been standing in the shower. First date. And they got married. And had eleven children. My brother-in-law. (laughing) We didn't know enough to worry about anything. We just didn't know. (laughs)
This interview has been lightly edited and condensed. Thanks to the Rensselaer County Historical Society, Tom Flynn and Duncan Crary for the photos of old Troy.
Say Something!
We'd really like you to take part in the conversation here at All Over Albany. But we do have a few rules here. Don't worry, they're easy. The first: be kind. The second: treat everyone else with the same respect you'd like to see in return. Cool? Great, post away. Comments are moderated so it might take a little while for your comment to show up. Thanks for being patient.