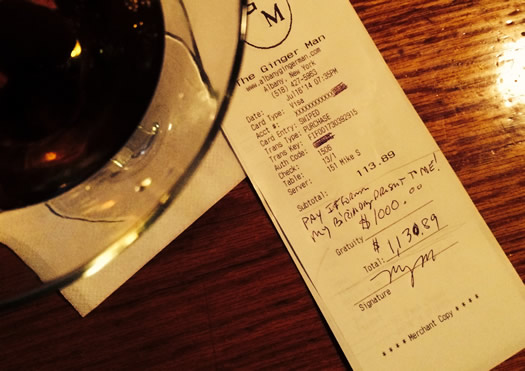 Something that made us smile today:
A server at The Ginger Man in Albany got a $1,000 tip this week on a $114 check.
Wednesday was a fairly typical night for Michael Shafts, who's been a server at The Ginger Man for about four years. At one of his tables, a man was celebrating his 47th birthday. Nothing unusual.
Then, according to Ginger Man manager Julie Byron, at the end of the meal the man's wife approached Shafts and said something to the effect of, "Something insane is about to happen to you, just take it and do something good."
Byron says the party left the restaurant and got into a limo. When she returned, Shafts approached her with the credit card slip -- on which the customer filled in a $1,000 tip with a note: "Pay it forward. My birthday present to me!"
Shafts says he couldn't have given the table better service even if he'd known there was a $1,000 tip coming. " He brought a very good 47-year-old bottle of wine with him, and I handled it well, but I always try to give excellent service and to be a little different. I look young, so maybe people don't expect it, but I always try to give the best service to all of my customers.
Julie Byron says she's never seen a tip like that in all of her years in the restaurant business.
"Honestly, I was stunned," says Byron. "I shook my head and said, 'I'm sorry can you please open up your book again.'"
What happens after you get a $1,000 tip?
Shafts went back to work.
"I saw him waiting on other tables -- it was like, 7 pm." says Byron. "And I said, 'Michael, I can't believe you're not walking out the door.' And he was like, 'Julie, I would never do that to you!' He played it cool and continued to give great service to the rest of his tables. Then he went home and was texting me at 11 pm saying, 'I can't believe it!'"
"He's a very hardworking young man. It couldn't have happened to a nicer person!"
Shafts, has already started paying it forward. "I shared the tip with the the other workers in the front and the back of the house," he says. "I know where he works, and I plan to go visit him and thank him personally."
(Via Deanna)
photo via Ginger Man Albany Twitter
Hi there. Comments have been closed for this item. Still have something to say? Contact us.