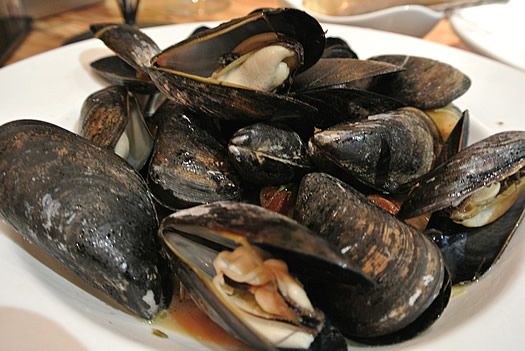 By Deanna Fox
Ah, summer. What could be more quintessentially American summertime than baseball, beer, and moules frites.
Yep, I said it. Moules. Frites.
Okay, so maybe that's a reach. While baseball and drinking beer are endemic to this country, the fancy title for mussels and French fries is a classic Belgian item.
But there is a place where those three elements -- baseball, beer, and moules frites -- coalesce in harmony, and that's Cooperstown, the site of the Baseball Hall of Fame and the hometown of one of the best examples of Belgian beer and food in America: Brewery Ommegang.
The brewery has become a behemoth of craft beer, though some hard-knuckled enthusiasts would not consider it as a true craft beer since it became part of the Duvel family. However you classify it, Ommegang is producing some outstanding beer. And the brewery's onsite cafe has mastered the art of incorporating beer into food.
One example of this is the Daily Moules ($12), which vary season to season based on availability of ingredients. Most likely the mussels come steamed in Hennepin or Witte, two flagship offerings from the brewery. The addition of the beer with other aromatics gives the mussels a bright acidity that combats the salty flavor that mussels sometimes develop. A dice of bacon brings a smoky quality to the mussels without overpowering. And a generous serving of bread is provided to sop up all the delicious broth left in the bowl.
Here's the thing about mussels: they're chewy. Don't sit there and gnaw on them until pulverized. Fork one into your mouth, offer a few teeth-gnashings, then swallow. Use a little broth to help slur it down if needed. (If you're new to the mussel-eating experience, take a piece of bread into your mouth alongside the mussel. It will help break up the mollusk and make it easier to swallow.)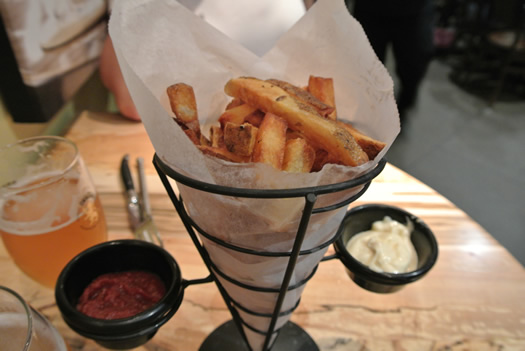 Something that's always easy to scarf down is a big basket of frites (or French fries, if you will, $6 added on if you get mussels). Those served at Ommegang are a classic of the genre. They are cut thick, skins on, fried until just crisp and served with a crackling layer of coarse-flaked kosher salt. Choose two dipping sauces with your frites: aioli (traditional, truffle, basil pesto, or chipotle), spicy Hennepin-spiked ketchup, or Abbey Ale and caraway mustard.
Be adventurous with the sauces. Fries on their own are great, but we all know we order them as a vessel for condiments.
One gripe about my meal is that I wish they would toast the bread with the mussels. A little bit of crunch would be a nice texture contrast. The mussels on my last visit were sandy, and my server was quick to attend to the problem. The chef came out to say that sandy mussels have been a problem this summer. I asked other chefs in the area, they agreed there been a bit more grit than usual. Apparently mussels this year are the Bill Buckner of an otherwise impeccable meal.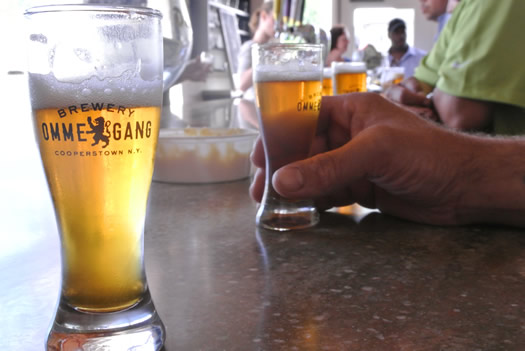 This weekend (July 25-28) is the induction ceremony for the Baseball Hall of Fame's newest class. The café at Brewery Ommegang is known for filling up fast -- so make a reservation if you plan on heading out to the area for the Hall of Fame activities, or a visit another time this summer (here's a link to Cooperstown tourism info). There are large tables for big parties. Tours of the brewery are available (with tastings) for a marginal fee. The café is typically closed during concerts. If you venture out, trust your server to help you with beer and food pairings. You can also opt to sample a beer before committing.
As to the fries, well, go all in on those. You won't be disappointed.
Deanna Fox writes about many things, mostly about food. More can be found on her website, Twitter, or Instagram.
Find It
Brewery Ommegang
656 County Highway 33
Cooperstown, NY 13326
Hi there. Comments have been closed for this item. Still have something to say? Contact us.