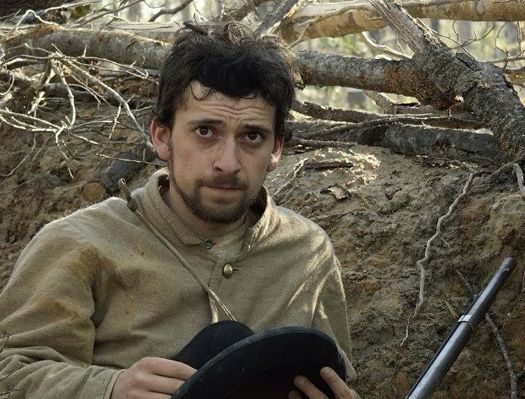 Last weekend 20-year-old Nathan J. Hoffmann was in the middle of an army field hospital with wounded and bleeding soldiers near Rochester.
Everyone was healed by Monday morning.
Hoffmann is a reenactor -- one of the guys you see at historic sites and encampments, dressed in garb from the Revolutionary, Civil or French and Indian War. When he's not reliving battles of the past, he's watching Netflix, hanging out with friends, working as a guide up at Fort William Henry, or reading up on the history he reenacts.
Nathan talked with us this week about why he spends his free time dressed in period costume reenacting battles, the meaning of "FARB," the division between mainstream and more intense first-person reenacting, and the great time he had freezing with George Washington.
How did you become a reenactor?
When I was a kid my grandpa used to take me to a family-oriented train robbery reenactment down in the Catskills that a friend of his did. I went to that from the time I was 7 until I was around 12 and a flood washed out the railroad. So at that point I was aware of reenacting as a thing. But I was the kid not just watching cartoons but also the film footage of WWII on The History Channel. I was really into military history. I grew up in Niskayuna and when I was 13 I knew I needed something to toughen me up and get me outside more -- make me less afraid of bugs and storms and all that. And reenacting has done that.
I was a volunteer guide up at the battlefield. I'd dress up in period clothing and interpret history for the public, and I met some park rangers who were reenactors who set me up with units to contact. Then I met a mentor, William Rathbone Patton, who taught me everything I know about reenacting -- how to sew, how to march, how to pack for a trek.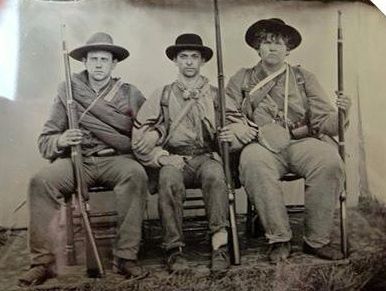 What do you get out of it? Why do you enjoy it?
'Cause I'm really freaking weird -- and I think that is probably the answer that a lot of other reenactors in my Civil War unit would tell you. I was always playing army as a kid. But I was also always the kid with my hand up in class asking a question or correcting the teacher. It's a hobby, but I take it seriously. It's very important to do research.
You do some theater, too. Is this connected with that?
There is some of that. Some friends and I had an opportunity to appear in the film done by the George Washington Homestead, of the battle of Trenton -- the famous Christmas morning sneak attack on the mercenaries. We we were freezing in thigh deep snow in 18th century clothing, but we had a blast, because you are with people you love.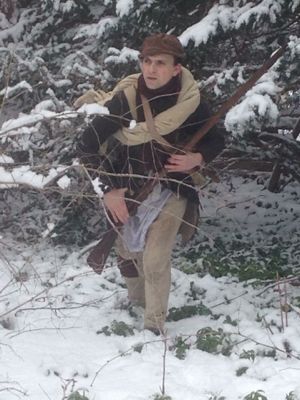 I would love to be an actor someday. I think everything in life is a learning opportunity. It's an outlet as an actor, yes, definitely, but also the authenticity is very important to me. I make a lot of my own gear and do a lot of my own research with primary sources. You are always looking at dispatches of a military nature, muster rolls, diary entries. For 18th century you rely on sketches and paintings, but there are also books. Wenches, Wives and Servant Girls is a collection for 400 runaway ads and it gives you a great text picture of the servant class and how they dressed. But when you get in the Civil War you have photos -- tin types and daguerreotypes, and so much more was mass produced. It's easy to get sewing needles from the Civil War era because they were mass produced. You have a lot more to go on than in pre-industrial revolution times. I have coats trousers breaches hats socks shoes muskets, rifles, blunderbusses. I make a lot of my own costumes and the stuff I don't make is make is made by good friends and it's all very well researched.
Sounds like it could get to be an expensive hobby.
Well, again if someone wants to get into it and doesn't care about authenticity there are easy ways to do it. Cotton is cheaper than wool or linen. You see a lot of folks in cotton trousers, but during the Civil War there wouldn't be much cotton around here. In the south, yes, but not here.
Lots of hobbies have a subculture. What is the subculture like around reenacting?
Some people are more concerned with accuracy than others. Authenticity is important to me. It's important to some people, not to everyone, but it's important to me. Not just the clothes but the fit of the clothes and the material used. How do you wear your gear, is it high up and out of the way. You've probably put some thought into, "Gee I'm a a soldier and I don't want gear dangling around my knees tripping me up." How does your stuff fit? Does it fit like it should based on photos paintings? Does it fit more haphazardly?
There's a term -- FARB, forget about research based -- so if people are farbing it up they are not as accurate. But you can't change them. You can try to help the ones who want to improve, but some just don't. I'm going to be in a group with people who care and want to do it the way I want to do it. But there's a place for everybody. It's a hobby, so its very abstract in terms of what you have to do.
And there's a divide between the mainstream and the progressives -- the folks who like to do more first-person reenacting. In my Civil War unit i've been lucky enough to fall in with 40 other guys who like to do what I like to do, all the first-person stuff.
We do some brutal scenarios for the public to witness. This past weekend was reenactment of the Union army moving through Georgia in 1864. Back then after a battle 7 out of every 10 men wounded were walking wounded. They had wounds and didn't realize it because of the adrenaline. We had 40 to 50 people. It involved men holding on to each other's arms and bleeding out and it was raw. Men would often drag themselves to a field hospital.
Squirming, dying men, making all kinds of sounds, portraying Yankees and Confederates, civilians, surgeons. And we feel that is the future of the hobby. It's a hobby for some, it's a lifestyle for others. I don't know what it is for me. It's one of the passions that I have always had, and always will have.
I think the field hospital reenactment we did this weekend was one of the best experiences I've ever had in first-person reenacting. As my friend Mike Ciotti put it, "It was everything you've ever read about a Civil War field hospital, shy of pools of blood and piles of limbs. Everything else -- the shrieks, the groans, having been hit in the eyes and not being able to see, bleeding to death, finding out friends have died -- it was the most brutal scenario.
But why would you want to do that? It sounds like something so painful.
The first couple of times it was emotional, exhausting. But it's acting. And just like with method acting, you have to know how to engage in that safely and have a way to step out. And I've definitely been in scenarios where I am crying real tears and screaming for my mother, and I come out and think, I really wish my mom was here right now.
That kind of stuff. better than anything, shows that these were hardened men, but they were also boys and also terrified. We want people to realize they have this notion of lines of men marching at each other was silly but marching in lines at each other was the way it was. Imagine yourself marching in line at another line of men. It's f------ horrifying. You want people to realize they were terrified. You want them to see the human element with the first person aspect when we are doing that for the public.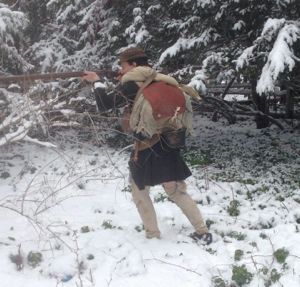 What have you learned by reenacting -- outside of the books and military history?
I think for one, whichever war we talk about, I would have been one of the first men to desert and go home or freeze to death. I'm not as hardcore as they were because they did everything with their hands. Even the tools they made were handmade tools. They experienced their world in a away we don't experience ours -- our lifestyle with A/C and central heat. But if you or I had been living in a log shack you can bet your back we'd be damn good at chopping wood.
Also just knowing the difference between "I can't go on," and "I have to go on or they'll get to my family's door and I can't let that happen." Sometimes I know I'm in pain, and I think about the fact that they did this under fire, and I'm here, and I'm not under fire and I'm fine. If the rangers can do it under fire I can do it if I'm not being shot at. My friend, Rob Frasier, calls that "rangering up."
You also learn a lot of truths that you didn't get in the classroom. You gain such a better understanding for how we got where we are.
Is this for anyone?
Reenactors come from all walks of life, all different occupations. They have other hobbies because it is so diverse. If you think that you are interested, there is something in it for you. The common thread among all the reenactors, I think, is a passion for history -- and in my Civil War group it is the passion to want to do it the same way.
Photos: Tom George, black and white tintype was done by RJ SZABO using original methods, Gary M. Hoffmann, Gary M. Hoffmann
Say Something!
We'd really like you to take part in the conversation here at All Over Albany. But we do have a few rules here. Don't worry, they're easy. The first: be kind. The second: treat everyone else with the same respect you'd like to see in return. Cool? Great, post away. Comments are moderated so it might take a little while for your comment to show up. Thanks for being patient.