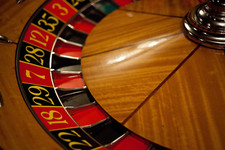 A Time Warner Cable News/Siena College Poll out this week asked people in the upstate regions being considered for casinos to predict five years from now whether the passing the casino amendment will be a good or bad decision. The responses:
Good decision: 17 percent
Bad decision: 19 percent
Both positives and negatives: 61 percent
Among the other questions:
Where did people stand on the casino amendment last November
+ In favor of: 36 percent / Opposed to: 28 percent / No opinion: 35 percent
+ For the Capital Region, the breakdown was: 35 / 30 / 33
(Capital Region counties voted 52-48 against the amendment.)
Do you now support or oppose a casino in the Capital Region?
+ Overall - support: 44 percent / oppose: 40 percent / need more info: 11
+ Capital Region respondents - support: 49 / oppose: 40 / need more info: 11
(This question was asked for each region.)
In this situation, SRI considered the Capital Region to be: Albany, Fulton, Montgomery, Rensselaer, Saratoga, Schenectady, Schoharie, and Washington counties. Margin of error for total responses: +/- 3.4 percentage points; for Capital Region responses: +/- 5.9 percentage points.
photo: Flickr user Håkan Dahlström (cc)