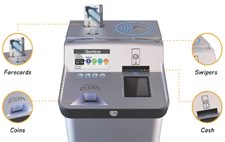 Pay by mobile phone to ride the bus?
CDTA isn't there, yet -- but it hopes to be by next year. This week the transit org is starting a series of public outreach sessions to discuss its plans for new smart card and mobile ticket options. The fare payment options are made possible by the new fare boxes that have been popping up on buses.
The transit org says the proposed new system won't affect base fares -- they're focused on prepayment options.
The first meeting is this Wednesday in Clifton Park. There will be five other meetings during August at various spots around the Capital Region. Schedule is at that first link.
CDTA was a sponsor of the Rail, River, Hudson trip.
Hi there. Comments have been closed for this item. Still have something to say? Contact us.