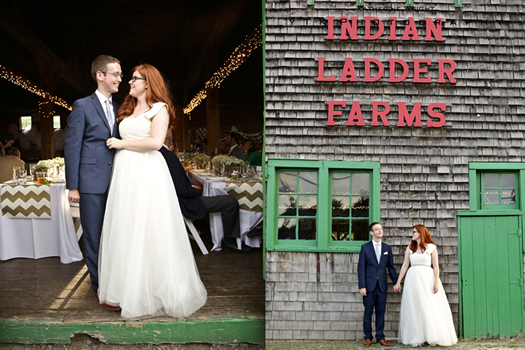 Over the last few months Lauren has been sharing her wedding planning process here at AOA. Well, guess what: She now's married and back from her honeymoon!
We got together with her this week to see how all that wedding planning worked out...
It's been about a month now since you got married. What's stuck with you about the planning experience?
Getting married is completely crazy. It's very much a whirlwind and there's no way to not go crazy. And then the day starts and it's just like the top of the roller coaster.
It was a lot of fun. I'm glad we did it. But it was also a lot of work.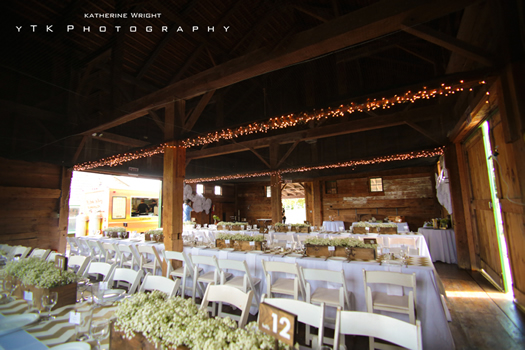 You decided to get married at Indian Ladder Farms. The ceremony was outside, but the reception was in a barn. How was that?
It was great to get married outside. It was perfect weather, which I couldn't have asked for anything better.
Getting married in a barn is a little bit interesting. We set up the day before and overnight birds in the barn literally pooped on our tablescapes. So, that was unfortunate. I delegated one of the dads to clean poop off the tables.
But also getting married in a barn made it a relaxed, rustic, fun vibe and allowed everyone to enjoy themselves. And one of the relatives -- I won't name names -- was a little doubtful that a wedding in a barn could turn out well, but later all her fears were assuaged and she was very happy and thought everything was beautiful.
When you wrote about your preparations for the wedding, you had mentioned that you were trying to take DIY approach to things and involve a lot of local vendors and businesses. How'd that all work out?
DIY was really a lot of work, piecing everything together, because George and I did it ourselves. But it was really great to involve a lot of local companies. So we had Slidin' Dirty do the catering, and this cool beer truck from the Pump Station where guests got to pour their beer, we knew the DJ, and I'm acquaintances with the florist, Flower Scout.
So it was a lot of fun to support local businesses, and have a DIY wedding. Stuff like having the beer truck is fun -- people got to tap their own beers! And we had little pins that were "Team Bride" and "Team Groom," so you had to pick sides. It was fun.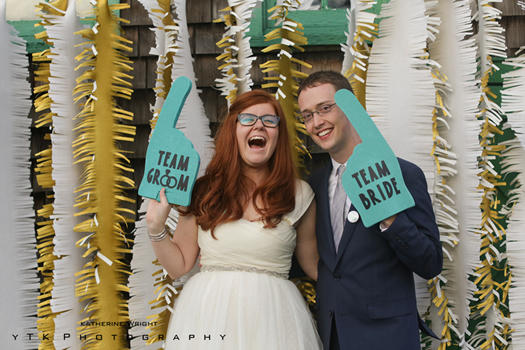 Wedding planning is a lot of work. Was it more work to incorporate all these smaller, local vendors?
I think it's always more work if you piece it together yourself. You know, we picked the venue, and then catering separate, and beverage separate, and everything was separate -- versus some venues have it all in one and they'll take care of all the little details. I don't think picking local was any harder than getting a big name person to do it.
It was always a balance. I really hate buying from these, like, huge stores online. But sometimes you have to weigh the costs of stuff. So we were trying to make it a really fun wedding and we gave out sunglasses as a favor because we realized a couple weeks earlier that people would literally be staring into the sun as we got married -- so we got them cheap party sunglasses from Amazon.
So I can't claim to be some, like, knitting my wedding dress from scratch kind of person. But where we could support local businesses, we did that where we could.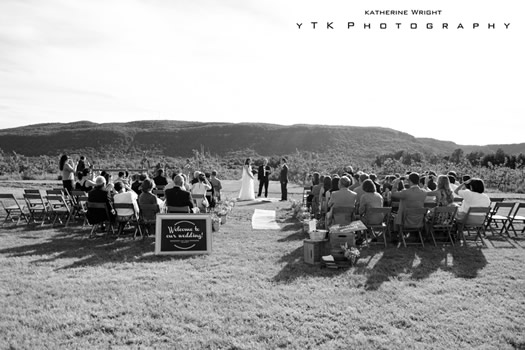 Anything you'd do differently?
I sort of said when my husband, George, and I got engaged that I would have been happy eloping. I'm still glad that we had the wedding and that we had the chance to make all those memories with our family friends. So... no. It was a wonderful memory and it's all paid for. (laughs)
I have no regrets -- except I did forget to wear my flower crown...
One piece of advice that you'd give people as they plan their own weddings?
Be organized and start early, but also don't forget to ask for help. When you have to piece it together yourself there are lots of little details. And even if you think you'll remember everything, you won't. And everything takes a lot longer than you'd expect. So we're very thankful that we had our families to help us in the days before and to set up everything up, because it was just us.
The honeymoon was in Italy. That must have been terrible, right?
Oh my god, amazing. Go to Italy! Drink all the coffee!
This interview has been edited and compressed. There are more photos from Lauren's wedding over at the site for Katherine Wright YTK Photography.
____
Lauren writes about shopping, crafting, and living well on a small budget at The Thrifty Ginger.
Hi there. Comments have been closed for this item. Still have something to say? Contact us.