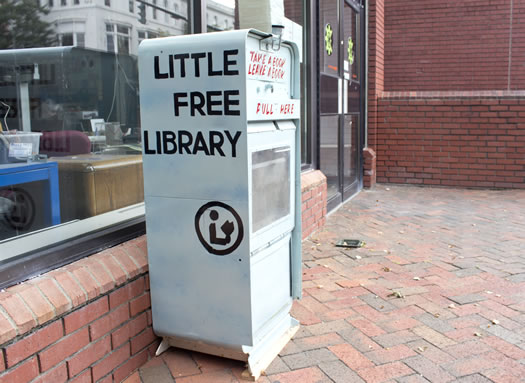 By Lauren Hittinger
There are little metal newspaper boxes popping up around Troy this summer. But instead of distributing newspapers, they're serving as free "libraries" for anyone to take a book and/or leave a book. They join a collection of "Little Free Libraries" that includes a few other spots around the Capital Region, and many others around the world.
Organizer Emily Armstrong says the three Troy locations are already seeing revolving donations. I talked with her recently about what inspired the tiny libraries, the merits of the "regular" library, and treasure hunting and surprise...
How does it work? Is the idea to take a book/leave a book? Or borrow and later return the book?
Folks using the Little Free Library are certainly welcome to read a book and put it back, or pass it on. I've had a stamp made that says "always a gift, never for sale" which I will be stamping books with in the future to discourage anyone from trying to take books they don't want from the libraries just to sell at a used book store. I've seen some Little Free Libraries emblazoned with "take a book, return a book," and I think "leave a book" is less likely to give anyone guilt.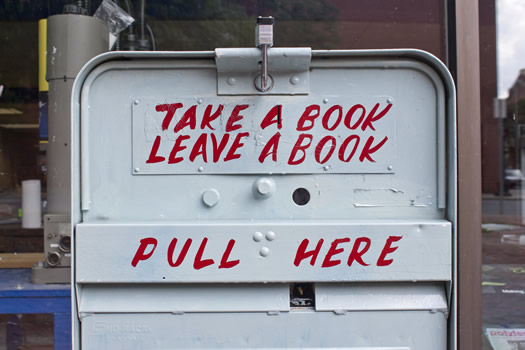 Why did you decide to create these? What inspired you?
I first learned about the project while I was in grad school, thinking about community-engaged art. I saw photos on the internet of these oversized birdhouse-like structures on the side of the road in the middle of nowhere. Besides being quirky, these appealed to me because I had seen firsthand the limitations of engaging with the community while expecting them to enter a space.
Take-a-book, leave-a-book shelves exist in coffee shops, but those only service a portion of the population. Existing on the street, in spaces where people already are, is a more accessible, democratic solution. 
Why not just visit the "regular" library?
I'm a big supporter of public libraries and in no way do I think Little Free Libraries replace the benefits of these. The Upper Hudson Library System has a tremendous selection of books, magazines, music, movies, books on tape, and other things. The library also lends out museum passes, has free wi-fi, and provides a quiet place to go with knowledgeable folks on hand to help you in your quest for knowledge. The library also has great programming, putting on a variety of events for every age level and a diverse amount of interests.
And it's free to join! I don't understand why more people aren't in love with the library.
I was recently contacted by Carolyn Fagan from the Troy Public Library about their support of the project. Many more books are donated to the public library than end up in circulation, so some of these books will now grace the shelves of the Little Free Libraries of Troy. 
You've asked, "Why not just go to a 'regular' library?" If you are looking for something specific, you should certainly go there. But if you're a fan of treasure hunting and surprise, you might appreciate taking a peek in one of the Little Free Libraries.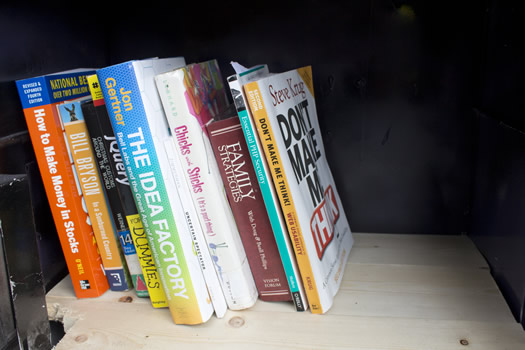 How is it going so far? How are you monitoring the boxes?
So far the project has been going really well. I've enlisted a cadre of folks to help steward the libraries, and we've been working hard to make sure the libraries where books are taken the most also see the biggest influx of donations. Anyone is welcome to help if they feel so inclined.
What's next for this project?
Next for the Little Free Libraries is hopefully making it official. The Little Free Library organization maintains a database and map of registered Little Free Libraries, and those registered are eligible for new books donated by publishers.
[Since this interview, the Troy Little Free Libraries successfully fundraised the registration fee.]
Some people have asked me about getting a library in front of their home or business. While anyone is welcome to make one, I'd encourage those who are within a few blocks of an existing Little Free Library to think about variations on the upcycled newspaper box theme. Perhaps someone could make a seed library, a board game library, a one-piece kids' toys library, a craft supplies library, or anything else. 
Do you have any other new projects starting up soon?
I've been working on the Little Free Libraries for many months (and dreaming about it for a few years) and now that they are out of my tiny apartment and on the street, I have more time to focus on other endeavors.
My newest is Erstwhile Signs, my hand-lettered, hand-painted sign business. I've been studying old fashioned sign painting for a few years and I'm finally in a place to make signs for other people, which is exciting. 
This interview has been lightly edited..
____
The three Little Free Libraries of Troy are located outside: The Sanctuary for Independent Media in North Central, the Tech Valley Center of Gravity downtown, and DeFazio's in the Little Italy neighborhood.
Lauren writes about shopping, crafting, and living well on a small budget at The Thrifty Ginger.
Earlier on AOA: Hey there, Emily Armstrong
Say Something!
We'd really like you to take part in the conversation here at All Over Albany. But we do have a few rules here. Don't worry, they're easy. The first: be kind. The second: treat everyone else with the same respect you'd like to see in return. Cool? Great, post away. Comments are moderated so it might take a little while for your comment to show up. Thanks for being patient.