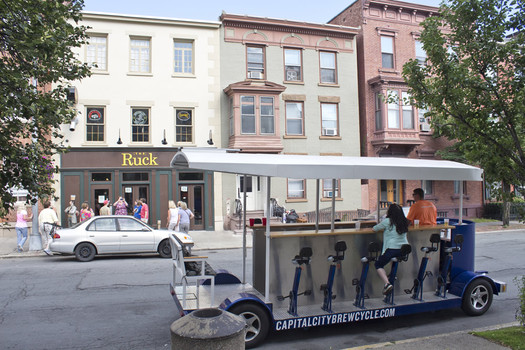 By Lauren Hittinger
The Capital City Brewcycle, which started operating in Troy this summer, puts a different spin on the pub crawl -- or, to be more accurate, you put the different spin on the pub crawl. Because the trolley-like Brewcycle is powered by the pedaling of 12 of its passengers.
I got a chance to give it a try this past weekend.
The Backstory
Capital City Brewcycle has only been around since June 2014. They custom built the vehicle after seeing a similar pedal-powered bus in Portland, Oregon while on vacation. Apparently they have these same party vehicles throughout Europe as well. The three founders are working on building another Brewcycle for use in Saratoga, but right now they book rides in Troy on Thursdays through Sundays.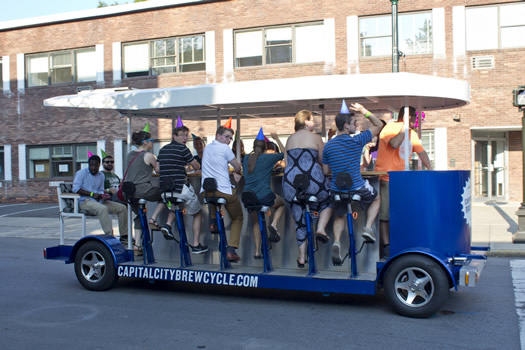 The Brewcycle
Describing the Brewcycle is a little difficult. Is it a tiny bus? A bike? A trolley?
You have to see it to completely understand, but it's an open-air trolley with a bar running down the middle and 6 inward-facing bicycle seats on each side. When you combine the bike seats with the bench on the end, 14 people can ride the trolley at a time, not including the driver.
The seats are adjustable, but particularly petite individuals (say, around 5-feet tall) might have difficulty reaching the pedals on even the shortest setting.
I was unlucky enough that on the first segment of my ride I sat at the one spot without a functioning chain. I probably shouldn't complain, because pedaling did pose a bit of a workout, especially when going up inclines. Pedaling isn't difficult, exactly, but it does feel like you're being active.
The 12 of us -- well, 11 of us with functioning pedals -- really did power the bike around Troy. While we didn't move much faster than a power walk, we took the Brewcycle down regular streets (and sometimes held up traffic).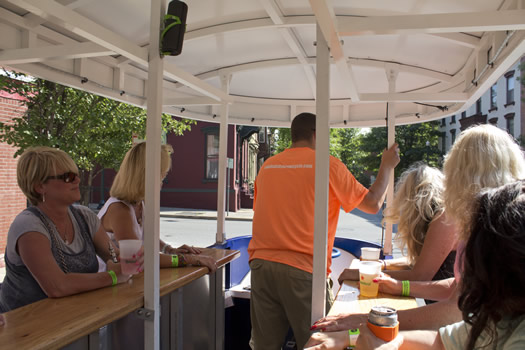 The Experience
After checking in and signing a waiver, the party got started. It wasn't long before we were on the streets of Troy, with party music blaring. There were a few other young people in their late 20s/early 30s, and another group of women in their 40s and 50s on my particular tour.
On our particular pub tour we visited Footsy Magoo's, The Ruck, and Lucas Confectionery. The Brewcycle has also been known to visit other Troy bars such as Finnbar's, Bombers, and Bootleggers. At each stop we had about half an hour to get drinks, nibbles, and hang out. You're encouraged to bring cash to speed up the drink process, but we had ample time at each destination. Before moving on, the organizers gave us a 5-minute warning to get ourselves back to the Brewcycle.
As per our reservation, we were encouraged to bring beverages to consume while riding on the Brewcycle. The waiver we signed at the beginning of the night asked us to agree to not drink alcohol aboard the trolley, but that prohibition wasn't enforced on our trip.
I found the whole experience to be a lot of fun, but I was a tiny bit embarrassed to be on such a boisterous and notable vehicle around town. We certainly attracted a lot of attention and at least a dozen people snapped photos of us as we pedaled by or held up traffic with our slow speeds.
Since Troy is so small and the Brewcycle is a bit slow, you could easily walk to all of the bars we stopped at in a similar time frame. Of course, getting around town quickly isn't the point of this tour. It was a lot of fun and something different to do besides just meeting up at a bar for drinks. I feel like it would be perfect for a birthday or bachelor party to get a whole group together with a party vibe.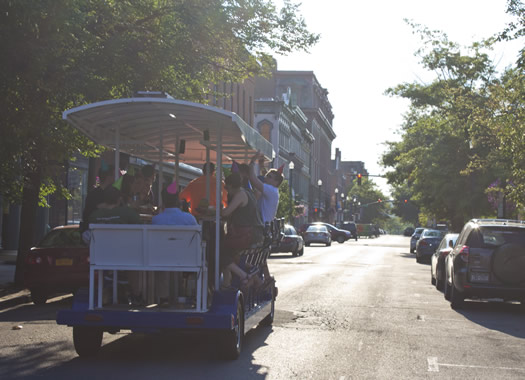 Things to know before you go
+ It costs $25 per person for each 2-hour tour. Depending on the day of the week, Capital City Brewcycle has multiple tours each evening.
+ The cost of the tour does not include any drinks at the bars.
+ It seems like the tours start to book up a couple of weeks in advance. If you have a large enough group, you can always get in touch with them to book a private party, although you need at least 8 people to get the Brewcycle moving.
+ Because the vehicle is people-powered, you have to complete the tour to the end or risk being charged an "abandonment fee."
Lauren writes about shopping, crafting, and living well on a small budget at The Thrifty Ginger.
Say Something!
We'd really like you to take part in the conversation here at All Over Albany. But we do have a few rules here. Don't worry, they're easy. The first: be kind. The second: treat everyone else with the same respect you'd like to see in return. Cool? Great, post away. Comments are moderated so it might take a little while for your comment to show up. Thanks for being patient.